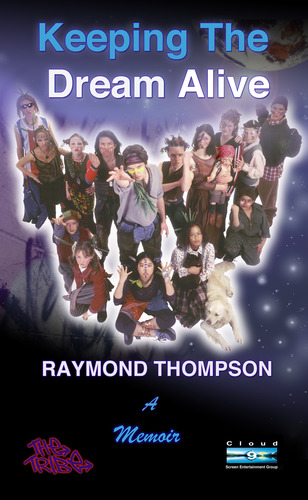 Keeping The Dream Alive is a book written due to many requests from Tribe fans to know more about what went into the making of The Tribe television series.
Written by Raymond Thompson (Executive Producer, creator of The Tribe and Chief Executive of the Cloud 9 Screen Entertainment Group), the book gives a fascinating insight into the workings of the television and motion picture industry, as well as revealing the inspiration behind The Tribe and what went into the making of the series (covering production aspects, script writing, story and character development, casting).
'Keeping the Dream Alive' is a unique and intriguing memoir charting the life and times of how someone growing up on the wrong side of the tracks in a very poor working class environment in post-War Britain was able to journey to the glittering arena of Hollywood, providing an inspirational insight into how the one most likely to fail at school due to a special need battled and succeeded against all the odds to travel the world, founding and overseeing a prolific international independant television production company. 
But it is also a humorous journal and insight into the fertile imagination of a writer's mind and what life is like away from the red carpet and spotlight in the global world of motion pictures and television. 'Keeping The Dream Alive' reveals the unique story of how the cult series 'The Tribe' came into being. Along with a personal quest to exist and survive amidst the ups and downs and pressures of a long and successful career as a writer/producer, culminating in being appointed an Adjunct Professor and featuring in the New Years Honours List, recognised by Her Majesty Queen Elizabeth II for services to television.
An essential read for anyone interested in the television and motion picture industry – and for fans of The Tribe who want to know the inside behind the scenes story of The Tribe!
Book Details: 
Title: Keeping The Dream Alive
Author: Raymond Thompson
ISBN-13: (paperback edition): 9780473193423
Published by: Cumulus Publishing Limited
Publication Date: 25 November 2011
Pages: 328
Where can I buy the book?
You can order a paperback copy of the book direct from Tribeworld.
Your nearest or local book shop should also be able to order the book for you (if they don't have any in stock) with the ISBN number 9780473193423
eBooks:
Keeping the Dream Alive is also available as a downloadable eBook from various websites, including:-
Amazon's Kindle: Kindle edition on Amazon.com | Kindle edition on Amazon.co.uk | Kindle edition on Amazon.de | Kindle edition on Amazon.fr | Kindle edition on Amazon.es |

Apple's iTunes/iBooks: iTunes edition on Apple.com | iTunes edition on Apple.com.au | iTunes edition on Apple.co.uk | iTunes edition on Apple.de | iTunes edition on Apple.fr |

Google's Google play: Keeping the Dream Alive on Google play |
Other retail and online outlets which stock 'Keeping The Dream Alive':
The book is also available as a paperback in a wide range of retail and online outlets including (this list is being updated all the time):
Amazon – Keeping The Dream Alive
Borders – Keeping The Dream Alive
Angus & Robertson (Australia) – Keeping The Dream Alive
Booktopia.com.au (Australia) – Keeping The Dream Alive
Superbookshop.net – Keeping The Dream Alive
Aldibris.com (Scandinavia) – Keeping the dream alive
Bokus.com (Sweden) – Keeping the dream alive
Betterworldbooks.com – Keeping the dream alive
Capris.no – Keeping the dream alive
Barnes and Noble – Keeping the dream alive
The Nile.com.au (Australia) – Keeping the dream alive
Fishpond.com.au (Australia) Keeping the Dream Alive
Fishpond.co.nz (New Zealand) Keeping the Dream Alive
W H Smith (UK) – Keeping the dream alive
Hotbooksale.com – Keeping the dream alive
Tanum.no (Norway) – Keeping The Dream Alive
Saxo (Denmark) – Keeping The Dream Alive