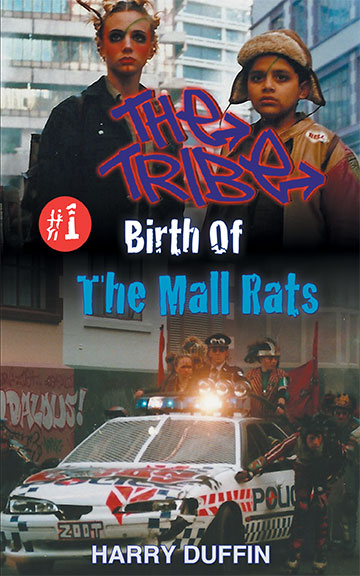 The Tribe: Birth Of The Mall Rats by Harry Duffin is the first story in a series of novelizations of The Tribe.
By popular demand we are proud to present novelizations of your favourite television series – The Tribe!
Birth Of The Mall Rats interweaves all the action of the first episodes and is the first book to be released in an ongoing series in a novel format of the actual television series.
The world began without the human race. Now, after a mysterious pandemic decimates the entire adult population, it looks as if it will end exactly the same way. Unless the young survivors – who band together in warring Tribes – overcome the power struggles, dangers and unexpected challenges in a lawless dystopian society to unite and build a new world from the ashes of the old. The Birth of The Mall Rats is the first story in a compelling series of novelizations of the global cult television phenomenon, The Tribe. Creating a new world in their own image – whatever that image might be…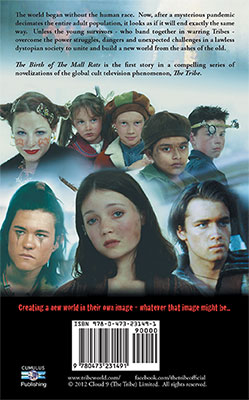 Book Details: 
Title: The Tribe: Birth Of The Mall Rats
Author: Harry Duffin
ISBN-13: (paperback edition): 9780473231491
Published by: Cumulus Publishing Limited
Pages: 428
Where can I buy the book?
You can order a paperback copy of the book direct from Tribeworld.
Your nearest or local book shop should also be able to order the book for you (if they don't have any in stock) with the ISBN number 9780473231491
eBooks:
The Tribe: Birth of the Mall Rats is also available as a downloadable eBook from various websites, including:-
Amazon's Kindle: Kindle edition on Amazon.com | Kindle edition on Amazon.co.uk | Kindle edition on Amazon.de | Kindle edition on Amazon.fr | Kindle edition on Amazon.es |

Apple's iTunes/iBooks: iTunes edition on Apple.com | iTunes edition on Apple.com.au | iTunes edition on Apple.co.uk | iTunes edition on Apple.de | iTunes edition on Apple.fr |

Google's Google play: The Tribe: Birth of the Mall Rats on Google play |

Other retail and online outlets which stock 'The Tribe: Birth Of The Mall Rats':
The book is also becoming available as a paperback in a wide range of retail and online outlets (this list will be updated all the time) including the following…
Amazon UK – The Tribe: Birth Of The Mall Rats
Amazon US – The Tribe: Birth Of The Mall Rats
Amazon DE (Germany) – The Tribe: Birth Of The Mall Rats
Barnes and Noble – The Tribe: Birth of The Mall Rats

AbeBooks.com – The Tribe: Birth Of The Mall Rats
The Book Depository UK – The Tribe: Birth Of The Mall Rats
BookTopia (Australia) – The Tribe: Birth Of The Mall Rats 
BetterRead (Australia) – The Tribe: Birth Of The Mall Rats
BookAdda.com – The Tribe: Birth Of The Mall Rats
BookByte – The Tribe: Birth Of The Mall Rats
Adilbris.com (Scandinavia) – The Tribe: Birth Of The Mall Rats
Bookplus (Finland) – The Tribe: Birth Of The Mall Rats
LovelyBooks (Germany) – The Tribe: Birth Of The Mall Rats
Books A Million.com – The Tribe: Birth Of The Mall Rats
Preisroboter.de(Germany) – The Tribe: Birth Of The Mall Rats 
TheNile.com.au (Australia) – The Tribe: Birth Of The Mall Rats
Kriso.ee (Estonia) – The Tribe: Birth Of The Mall Rats
Fishpond.com.au (Australia) – The Tribe: Birth of the Mall Rats
Fishpond.co.nz (New Zealand) – The Tribe: Birth of the Mall Rats