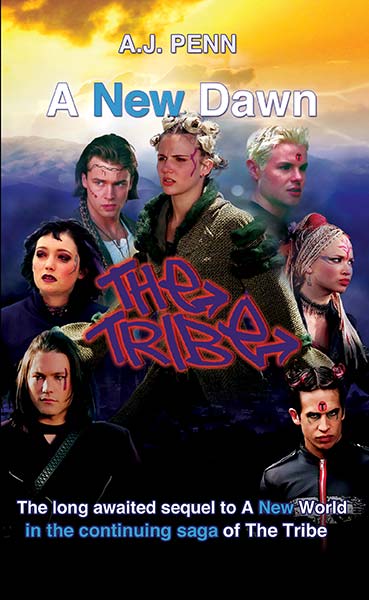 Where can I buy the book? – The Tribe: A New Dawn is the long awaited continued story based upon the cult television series, 'The Tribe'.
Following the many challenges in the best selling novel, The Tribe: A New World, the Mall Rats NOW find themselves faced with an even greater struggle in The Tribe: A New Dawn as they try to unravel the many unexplained mysteries they now encounter.
What was the real mission of the United Nations survival fleet? Who is the enigmatic leader of the Collective? What really did occur at Arthurs Air Force Base?  Is there something more sinister to the secrets revealed on the paradise island where they are now stranded?  Forced to resolve the agonizing conflict in their personal lives, the Mall Rats must also decide which path to take and whether or not to confront the ghosts of their past in their battle to survive against an ominous adversary.  With the very real threat of human existence becoming extinct, can they endure against all odds to secure a future and the promise of a better tomorrow?   Or will they suffer the same fate as the adults who had gone before and perish?  The tribe must fight not only for their lives but face their greatest fears to prevent the new world plunging further into darkness – and ensure hope prevails in a new dawn.  And that they keep their dream alive.
Book Details: 
Title: The Tribe: A New Dawn
Author: A. J. Penn
ISBN-13: (paperback edition): 9780473307943
Published by: Cumulus Publishing Limited
Pages: 408
Special Message from Ray to celebrate the launch of The Tribe: A New Dawn!
Where can I buy the book?
The Tribe: A New Dawn will be available as a paperback around the world from all leading online book outlets (like Amazon, Barnes and Noble, etc) as well as physical retail book stores (please check the list of outlets at the bottom of this page).  You can also order a paperback copy of The Tribe: A New Dawn directly from Tribeworld.
Your nearest or local book shop should also be able to order the book for you (if they don't have any already in stock) using the ISBN number 9780473307943 as reference.
eBooks:
The Tribe: A New Dawn is also available as a downloadable eBook from various outlets, including:-
Amazon's Kindle: Kindle edition on Amazon.com | Kindle edition on Amazon.com.au | Kindle edition on Amazon.co.uk | Kindle edition on Amazon.de | Kindle edition on Amazon.fr | Kindle edition on Amazon.es |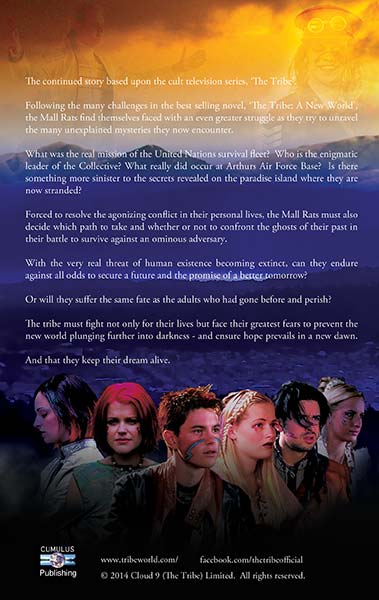 Apple's iTunes/iBooks: – iTunes edition on Apple.com | iTunes edition on Apple.com.au | iTunes edition on Apple.co.uk | iTunes edition on Apple.de | iTunes edition on Apple.fr |

Google's Play Books: The Tribe: A New Dawn on Google Play Books 
Kobo: The Tribe: A New Dawn eBook on Kobo
Nook / Sony Reader: Due to matters outside our control it is not possible to make the book available directly through Nook's store or Sony Reader – but there is a workaround, the Google Play Books version can be transferred to Nook or Sony Reader using Adobe Digital Editions – please see here for instructions
Other retail and online outlets which stock 'The Tribe: A New Dawn as a paperback physical book:
The book is also going to be available as a paperback physical copy in a wide range of retail and online outlets around the world (this list will be updated all the time) including the following…
The Tribe: A New Dawn paperback on Amazon
The Tribe: A New Dawn paperback on Book Despository
The Tribe: A New Dawn paperback on wordery
The Tribe: A New Dawn paperback on Adlibris
The Tribe: A New Dawn paperback on Booktopia
The Tribe: A New Dawn paperback on (Sweden) Bokus 
The Tribe: A New Dawn paperback on (Sweden) CDON
The Tribe: A New Dawn paperback on Fishpond
The Tribe: A New Dawn paperback on (Croatia) Superbookshop
The Tribe: A New Dawn paperback on (Netherlands & Belgium) bol
The Tribe: A New Dawn paperback on (Norway) bokkilden
The Tribe: A New Dawn paperback on (Norway) Bokklubben
The Tribe: A New Dawn paperback on (Finland) CDON
The Tribe: A New Dawn paperback on (United Kingdom) WH Smiths
The Tribe: A New Dawn paperback on (Germany) reBuy
The Tribe: A New Dawn paperback on (Poland) ABE
The Tribe: A New Dawn paperback on (Netherlands) Studieboekwinkel
The Tribe: A New Dawn paperback on (Germany) Morebooks
The Tribe: A New Dawn paperback on (Denmark) imusic
The Tribe: A New Dawn paperback on (Denmark) Saxo
The Tribe: A New Dawn paperback on (Denmark) CDON
The Tribe: A New Dawn paperback on (Germany) Thalia 
The Tribe: A New Dawn paperback on (New Zealand) Wheelers 
The Tribe: A New Dawn paperback on Barnes & Noble 
The Tribe: A New Dawn paperback on (Romania) Karte.ro
The Tribe: A New Dawn paperback on opentrolley
The Tribe: A New Dawn paperback on (Australia) Media Mall
The Tribe: A New Dawn paperback on (Germany) buecher.de
The Tribe: A New Dawn paperback on (Poland) krainaksiazek.pl
The Tribe: A New Dawn paperback on (Norway) tanum.no
The Tribe: A New Dawn paperback on (Finland) Booky
The Tribe: A New Dawn paperback on Ketabgard
The Tribe: A New Dawn paperback (Singapore) Kinokuniya
The Tribe: A New Dawn paperback (Malta) Mireva
The Tribe: A New Dawn paperback (Portugal) CriticalLiteraria.com
The Tribe: A New Dawn paperback (Norway) Litteraturklubben
The Tribe: A New Dawn paperback (Romania) Books Express
The Tribe: A New Dawn paperback (Switzerland) ex libris
The Tribe: A New Dawn paperback (United Kingdom) Blackwells
The Tribe: A New Dawn paperback (Italy) ibs
The Tribe: A New Dawn paperback (USA) Powell's 
The Tribe: A New Dawn paperback (Finland) info
The Tribe: A New Dawn paperback (Hong Kong) elephant
The Tribe: A New Dawn paperback (Germany) Shops Suchmaschine 24
The Tribe: A New Dawn paperback (Netherlands) Bookdiscounter.nl
The Tribe: A New Dawn paperback (Italy) Mondari Store
The Tribe: A New Dawn paperback (Norway) Bokanmeldese.com