Where can I buy the book?
Information on the English Language edition.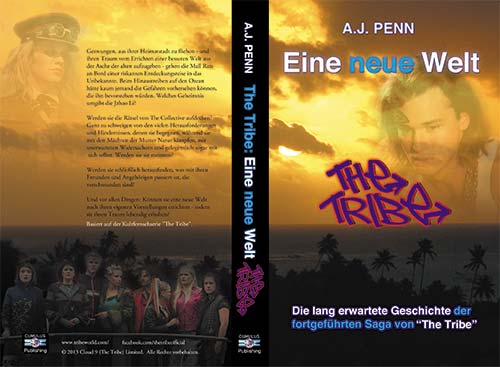 "The Tribe: Eine neue Welt" is the German language translation of 'The Tribe: A New World" by A J Penn, continuing the official story of The Tribe after series 5…
Basiert auf der Kultfernsehserie "The Tribe". Gezwungen, aus ihrer Heimatstadt zu fliehen – und ihren Traum vom Errichten einer besseren Welt aus der Asche der alten aufzugeben – gehen die Mall Rats an Bord einer riskanten Entdeckungsreise in das Unbekannte. Beim Hinaustreiben auf den Ozean hätte kaum jemand die Gefahren vorhersehen können, die ihn bevorstehen würden. Welches Geheimnis umgibt die Jzhao Li?
Werden sie die Rätsel von The Collective aufdecken? Ganz zu schweigen von den vielen Herausforderungen und Hindernissen, denen sie begegnen, während sie mit den Mächten der Mutter Natur kämpfen, mit unerwarteten Widersachern und gelegentlich sogar mit sich selbst.  Werden sie sie meistern?
Und vor allen Dingen: Können sie eine neue Welt nach ihren eigenen Vorstellungen errichten – indem sie ihren Traum lebendig erhalten?
Book Details: 
Title: The Tribe: Eine neue Welt
Author: A. J. Penn
ISBN-13: (paperback edition): 9780473272227
Published by: Cumulus Publishing Limited
Publication Date: 13 December 2013
Pages: 414
Where can I buy the book?
The book can be be ordered online (through outlets like Amazon.com).  Your nearest local book shop should be able to order the book for you (if they don't have any in stock) with the ISBN number 9780473272227
You can also order a copy of the book direct from Tribeworld! 🙂
eBooks:
The Tribe: Eine neue Welt is also available as a downloadable eBook from various websites, including:-
Amazon's Kindle: Kindle Edition on Amazon.de

Apple's iTunes/iBooks:
Google's Google play: The Tribe: Eine neue Welt on Google play |