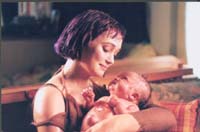 There are now two babies in the world of The Tribe. How difficult is it to bring up a child in a world with no adults?Brady

Trudy became pregnant not long after the adults were gone. She had been in a short relationship with Martin (Zoot) who was Bray's brother. Bray took Trudy under his wing and they searched for somewhere safe and warm where the baby could be born.

They came across the Mall and the other Mallrats, with a bit of persuasion, allowed Trudy to stay.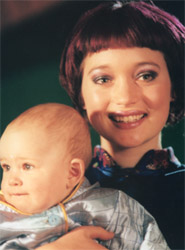 Childbirth is wonderous but it can also be painful, scary and overwhelming. Trudy was only 16 at the time and even in today's terms that's a young age to be having a baby of your own.
Trudy gave birth to a lovely baby girl. There were no complications with the birth and it all went as smoothly as possible. Trudy decided to name her baby after herself and Bray. Brady was born.
Being a mother you are fiercely protective of your offspring. Trudy had post-natal depression after the birth and with her combined jealously over Salene and Bray she was finding things very tough.
Babies need full time care. They wake every few hours during the night needing to be fed and they have many nappy changes per day. As well as nappy rash, teething, wind, etc etc.
Trudy was able to cope because everyone was willing to help. Brady has been lucky growing up in such a big family with lots of people who love her.
Baby Bray
Amber fell pregnant to Bray during Series 3. She found it hard thinking that the world the way it is might not be the best place to bring up a child.
Bray and Amber got through their struggles but then Ebony became leader of the city and banished them. They were forced to leave the city.
Amber went into labour shortly after and Bray found a barn for them to rest in. Then the Techno's arrived…
Amber's labour was moving rapidly but Bray was intrigued by the Techno's plane. Bray disappeared and Amber was left alone to cope with the birth.
Trudy found Amber early in Series 4 and talked her through the birth. A healthy baby boy was born. Amber was worried for Bray and had no idea what had happened to him. Trudy had to make some decisions for the both of them. Firstly they had to get to somewhere safe where both Amber and Baby Bray could rest.
When they finally found the Eco-Tribe they were exhausted. They had found them just in time. Amber needed rest and a decent meal. She was weak but she was lucky that there were no other complications.
The Eco-Tribe have been saviors for Amber and Trudy and their support has been unconditional.
Salene's Pregnancy
Salene became pregnant while the Chosen had taken over the city. Salene found out the The Chosen had their own ideas for pregnant mothers. Ryan was devastated and angry to learn that "Fathers" of the children were not to have anything to do with them.
Ryan was enraged and flew at the Guardian in a rage – he was taken away.
Salene has always been very motherly to all the young children at the Mall. She was excited at having her own child. Unfortunately Salene miscarried. She fell down the stairs one day which terminated her pregnancy. Salene was devastated and it took her a long time to be happy again.
But Salene will always care for Brady and Baby Bray. She has a way with babies and loves to look after them. Who knows, she may become pregnant again…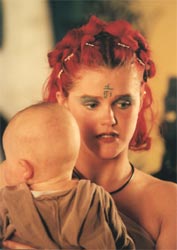 Tribal Mothers
Young mothers in The Tribe have done extremely well in bringing up their children. With the odds stacked against them they've pulled through and are enjoying watching their children grow.
They have a hard time find plenty of healthy food but must make do with what they do have.
Brady took her first steps in Series 3. Brady has been through tough times, her father dying when she was young, being kidnapped and worshipped. Trudy loves her very much and nothing in the world means more to her.
Amber is a new mother but she has lots of support. She's doing well with the Eco-Tribe and Baby Bray is growing strong and healthy like his father.