This week we take a look at the various ways that people around the world celebrate their birthdays and how to say "happy birthday" in different languages.
TRADITIONS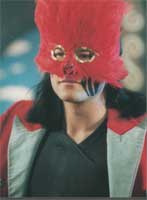 Lex tries to disguise himself for a party!
Africa – more often than not it seems as if there is an initiation ceremony for children when they reach a certain age rather than a birthday celebration as such. At this time the children learn all the laws, dances, beliefs and customs of the culture.
China – it is tradition for the members of the family and some friends to gather for a lunch of noodles. The noodles signify the wish for long life. The Chinese are taught to respect their parents and often give gifts of money to their parents to mark the special occasion.
Mexico – at children's parties in Mexico a pinata is hung from a tree or the ceiling. This is a large papiér mache animal that is filled with gifts and sweets. The children take turns to give the piñata a good old whack with a stick while wearing a blindfold. Once the piñata is smashed the children get to share the goodies.
Israel – the lucky birthday person sits on a chair that is lifted once in the air for every year of their age for luck.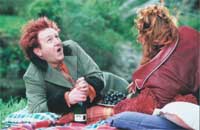 Anyone fancy a birthday picnic?
THE SONG
The "Happy Birthday" song was originally called "Good Morning" and was written by Patty Smith and her sister Mildred J Smith of America in 1893. The actual happy birthday words were added in 1924 by an unknown lyricist and the song as we know it today is the most frequently sung song in our world.
WAYS TO SAY "HAPPY BIRTHDAY" IN DIFFERENT LANGUAGES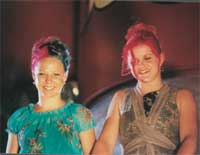 Sal and Zandra say a big "Feliz Cumpleaos"!
Maori ~ kia huritau ki a koe
Chinese (Cantonese) ~ Sun Yat Fai Lok
German ~ Alles Gute zum Geburtstag
Japanese ~ Otanjou-bi Omedetou Gozaimasu
Spanish ~ Feliz Cumpleaos
Russian ~ S dniom razhdjenia
Finnish ~ hyvaa syntymapaivaa
Afrikaans ~ veels geluk met jou verjaarsdag
Zulu (South Africa) ~ Ilanga elimndandi kuwe
Welsh ~ Pemblwydd hapus I chwi
DID YOU KNOW?
Romans in the fourth century believed that on the day of birth a personal god (that they called a genius) would be born with them. This Œgenius' would accompany the person throughout their entire life and would supposedly send messages by making the person sneeze. "God Bless You" was said in reply to help the message get through to the god.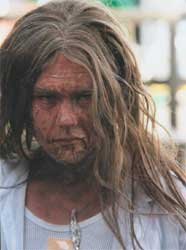 Lex tries another disguise…
TRIBAL TRADITIONS?
Traditions are hard to break after a lifetime of using them. It is hard to say whether or not tribes would keep these traditions up or whether they would forget all about them.
There is so much more to think about in this New World and day to day survival takes up a lot of time and energy. Who would want to take time to make a cakeŠor even have the ingredients to do so? Who would be able to find something meaningful to give as a present?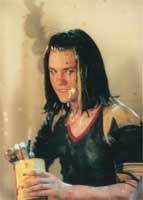 Lex tries yet again to cover up for the party, this time with paint
There are no shops in this world. Though there are places to trade for items, some people would not want to part with hard-earned or personal objects in return for something that could be used as a birthday present.
People might still get together for a bit of a party but this might backfire as it did when the mall rats organized the surprise party for Patsy. Most people would probably feel more comfortable if they could forget the fact that it was their birthday. Too many reminders of what is long gone could be heartbreaking all over again.
Little Patsy puts on her favourite pair of wings