| | |
| --- | --- |
| Interview: Interview with Meryl Cassie | |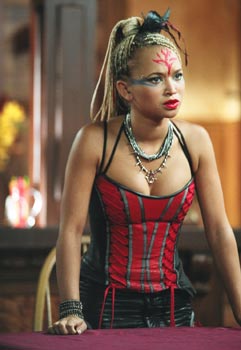 Behind the Makeup…
TW: What colour are your eyes?
Meryl. – Green/Blue
TW: What do you do to take care of your skin?
Meryl. – I love Nivea Visage cleanser, and any moisturiser. But I love to steam with a hot cloth.
TW: What do you do to take care of your health?
Meryl. – Try to drink lots of water, go to the gym when I have time, and read to clear my mind.
TW: Are you concerned about your looks given the business you are in?
Meryl. – Not really
TW: Would you consider putting on or losing a lot of weight for a part?
Meryl. – I would definitely consider it.
TW: Do you think that weight and looks should be important in the film business or do you think that there's too much pressure put on actors to look a certain way?
Meryl. – I think there's a hell of a lot of pressure put on actors, but in saying that, everyone's different and the different cultures, ages, looks and personalities you see out there acting makes life so much better. We're all human! And variety and difference is always great.