| | |
| --- | --- |
| Interview: Inteview with Beth Allen | |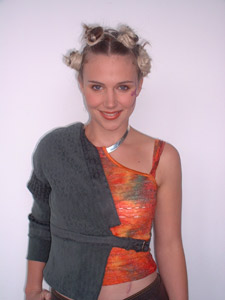 Behind the Makeup…
TW: What colour are your eyes?
Beth. – Blue
TW: What do you do to take care of your skin?
Beth. – Drink loads of water, use Cetaphil cleanser, get heaps of sleep and try not to stress!
TW: What do you do to take care of your health?
Beth. – Sleep. Alot. I don't smoke, attempt to exercise regularly, eat a good diet (mostly) and wear my seatbelt!
TW: Are you concerned about your looks given the business you are in?
Beth. – Sometimes. But life's too short to worry about it too much!
TW: Would you consider putting on or losing a lot of weight for a part?
Beth. – I guess so. If it was absolutely essential and the part was fantastic.
TW: Do you think that weight and looks should be important in the film business or do you think that there's too much pressure put on actors to look a certain way?
Beth. – I think that there are plenty of brilliant actors who don't fit the "mould", and there always will be. But that won't change the fact that the film business is based in fantasy, not reality, and thus the people in it don't always look realistic!