| | |
| --- | --- |
| Interview: Inteview with James Napier | |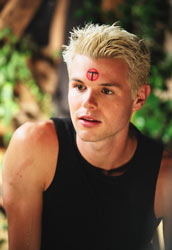 Behind the Makeup…
TW: What colour are your eyes?
James. – Hazel
TW: What do you do to take care of your skin?
James. – Wash the makeup of as soon as I'm wrapped for the day!
TW: What do you do to take care of your health?
James. – Exercise, eat well (at least, try to!)
TW: Are you concerned about your looks given the business you are in?
James. – Don't really have a choice!
TW: Would you consider putting on or losing a lot of weight for a part?
James. – Definitely.
TW: Do you think that weight and looks should be important in the film business or do you think that there's too much pressure put on actors to look a certain way?
James. – I think there's way too much focus on looks in the acting industry. That's what models are for! Talent should be the only requirement, but unfortunately that's not the way it works… This issue sometimes makes me want to quit acting and just focus on music. Looks don't matter there, it's all on how you play!
However I love acting too much to quit, so you just gotta get what you can out of it.