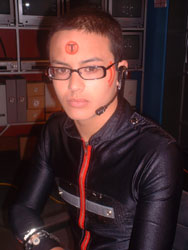 Name
Mega Series Series 4 and 5
Tribe The Technos
Biography
Mega is one of Ram's right hand men. He controls all the intricate electrics of the city and is a computer whizz. He is very focussed with anything he does and won't be distracted. At the end of Tribe 4 he helps defeat Ram with the Mallrats. But his intentions are unclear. Is he a baddy or a goody… time will tell.
Cast Member
Name Calen Maiava-Paris Birthday 3rd June 1983
Interests Drawing, reading, skating
Biography
Calen joined the cast of the Tribe in series 4. Before The Tribe Calen has been involved in a few short films including one called "The Hibiscus".
Calen was born and bred in Wellington. He pursues a range of and interests, including skateboarding, reading and lots of artwork.
Calen is an avid artist and would one day like to work for a special effects company.