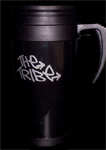 Tribe Thermal Mug – Available Now
At last, we have this really Hot item back in stock. and it's on the order form ready for you to order and own to enjoy your drinks from. Just remember though that this does keep your drinks hot, so be careful!! Take a look at theTribe Fanclub Storefor all the Tribe Merchandise available.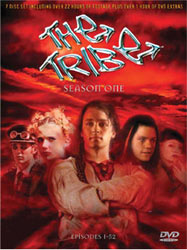 Tribe DVD Release in Norway!
The Tribe Series 1 DVD is being released in Norway! It was first released last March 2003 in the UK, Germany and France. The DVD will be in stores in Norway before Christmas. We are still working on bringing the DVD to other countries so stay tuned.

Series 5 in Croatia!
Tribe Series 5 has been taken by television channel HRT in Croatia! We don't have broadcast dates yet but we'll keep you updated!

Tribe Series 6 update
The writing team are putting pen to paper for Tribe Series 6 so stay tuned to Tribeworld for more news. We hope to have more announcements for you soon.

Exclusive!
Cloud 9 has been approached by many broadcasters to think about doing a Next Generation of The Tribe (rather like Deep Space Nine to Star Trek) and discussions are taking place. We'd like to know what you think so send us an email to nextgeneration@entercloud9.com.

Dragon*Con
We've had a lot of emails enquring whether The Tribe will be participating in Dragon*Con 2004. We are currently looking into possibilities and will let everyone know in due course. A track is being organised and you can view the arrangements athttp://www.usatribalgathering.com – which is subject to change. Whether any of The Tribe cast attend or not there will still be a Tribe Track at the event! We will have announcements in the news soon as to Cloud 9's participation.