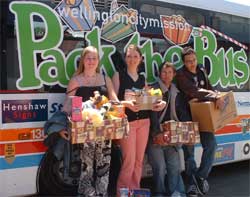 Cast visit Cloud 9
Caleb Ross (Lex), Jennyfer Jewell (Ellie), Calen Maiava-Paris (Mega) & Antonia Prebble (Trudy) made a surprise visit to the Cloud 9 studio offices last week.
It was really great to see them and they certainly had fun catching up with each other. They signed lots of merchandise, updated their fan replies and helped with our yearly sponsorship of the "Pack the Bus" promotion whereby a bus is sent around Wellington to collect donations of food and toys that are then distributed by the City Mission.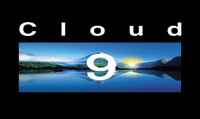 News from Cloud 9 – A New Tomorrow
Cloud 9 is in the final stages of signing off on a new format, The New Tomorrow. This is a sequel to Cloud 9's successful franchise of The Tribe which has evolved into a cult hit series around the world with over 260 episodes being shot. Scripting has already begun on the sequel which is scheduled to comprise of 26 x 30 minute episodes and to be broadcast from September 2005. Location scouting will soon occur throughout New Zealand.
Christmas Special Gift Packs
We have designed some gift packs for Tribe Fanclub members to order which are at a special discounted price.These will make great Christmas presents or perhaps even as a treat for yourself. We have video sets including the Bloopers Video and CD Rom which is available for a limited time.
So check out the Tribe Fan Club Store for the new special Christmas order form now!
Click here to visit the TRIBE FANCLUB STORE – exclusive to Tribe Fanclub Members!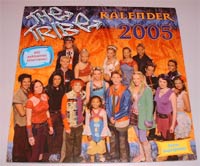 Tribe Calendar
The Tribe Calendar is now in stores! The German Tribe Calendar for 2005 is available in all good book stores and kiosks throughout Germany, Austria and German speaking Switzerland.