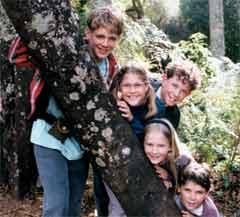 Cloud 9 Screen Entertainment – Celebrating Ten Years of Quality Family Entertainment
The Cloud 9 Screen Entertainment Group was founded in 1994 by Raymond Thompson in association with the Sanctuary Group PLC to develop, produce and exploit a portfolio of quality product for the international television market.
10 years later and Cloud 9 has produced thirteen series in it's porfolio of children's entertainment.
Cloud 9 is recognised as a major brand. Over one billion viewers around the world regularly enjoy titles within the company's portfolio of programming and will be enjoyed for successive generations to come.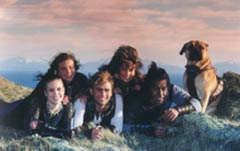 Cloud 9's first two series "The Enid Blyton Adventure Series" and "The Enid Blyton Secret Series" were filmed throughout New Zealand and received critical acclaim and consistently high ratings throughout the world.
"The Return to Treasure Island" was filmed on location on a real desert island in the South Pacific and throughout New Zealand. Inspired by Robert Louis Stevenson's classic tale of romance, treachery and adventure on the high seas, Return to Treasure Island picks up the story of the legendary Long John Silver and his long-time adversary Jim Hawkins.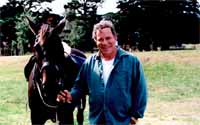 William Tell was Cloud 9's next project. Described by executive producer Raymond Thompson as "Star Wars on the planet Earth", it is a fantasy saga of bravery, magic, myth and romance. Shot throughout New Zealand in many of the stunning geographical locations that were also used in Lord of the Rings.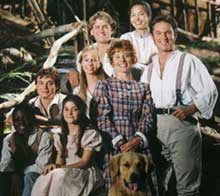 "The Adventures of Swiss Family Robinson" The series chronicles the adventures of David Robinson (Richard Thomas) and the Robinson family as they struggle to survive in the face of adversity after being shipwrecked on a tropical desert island. It was filmed on location on a real-life paradise desert island north of Fiji in the heart of the South Pacific.
"William Shatner's – A Twist in the Tale" This unique anthology series stars William Shatner (best known and loved for his legendary portrayal as Captain Kirk in the immortal series and motion picture franchise, Star Trek). William Shatner is the enigmatic "Storyteller" and takes the audience on a magical journey into their imaginartion…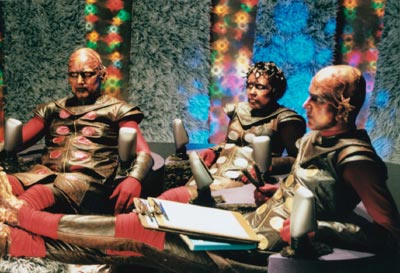 "Atlantis High" – Imagine a world where aliens rule supreme, bronzed hunks and beauty queens mingle with secret agents and superheroes, and the Underworld takes on a whole new meaning.
Five series later and "The Tribe"is a unique and radical smash-hit teen/childrens series that is now into pre-production of it's sixth series. It has a huge following from children and teenagers all over the world.
… Where the virus came from no one knew. From deepest space, bacterial warfare or some nation's scientific experiment gone horrifically wrong? Only an intensive inquiry could answer that. But there is no one left to hold such an inquiry. No adults anyway. And the few children left behind are too busy surviving to worry about what had plummeted them from a hi-tech world of sophistication – into a primitive hell of anarchy, confusion, danger and fear.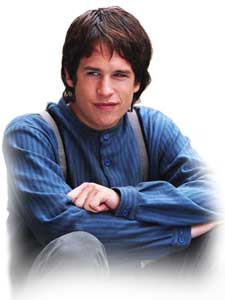 Revelations – The Initial Journey…" is a drama series that follows a sixteen-year-old boy's journey through life and time itself. Each episode of the series is set against a unique backdrop in history. Soldiers patrol the Roman Empire in 52 A.D… in 1959, rock n'roll teenagers nervously prepare for a High School dance… in 1580, a European encounters a Maya village in Central America…a family is caught up in the French Revolution in 1792… a teenage girl tries to rebuild her life after a serious accident in 2002…
Many of Cloud 9's productions have included some actors/actresses that have made themselves big names in the film and television industry.
Cloud 9 is very proud of it's last ten years and are looking forward to announcing more exciting projects over the next ten years.

Tribe 5 on NRK!
Tribe 5 is now showing in Norway on NRK. Some cast of The Tribe visited NRK in Norway last year during the Tribe Tour 2003. They had a fantastic time there and appeared live on Etter_Skoletid. They were also treated to a day in the snow covered hills where they had lunch over an open fire and mucked around in the snow on toboggans on sleds.
Tribe Fanclub Emails
The Tribe Fanclub email system is up and running again so you can all email the fanclub once again. If you have sent emails over the last few days and have not received a reply within three days then you might want to resend them in case they were lost along the way.
As you'll see below we have also extended the deadline for the Fanclub Member Only Competition because of this hiccup and you now have until noon on 25th February 2004 to send them in.
We're sorry for the inconvenience.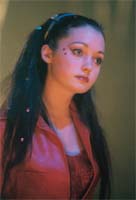 Fan Club Member Only Competition!
Here's your chance to enter a short story competition and be in with the chance to win a great Tribe prize pack!
All entries will be put up in a March edition of the newsletter.
10 shortlisted winners will each receive a special signed congratulations card as well as 3 signed cast postcards!
The first prize is a Tribal goodie pack stuffed full of Tribal merchandise as well as a congratulatory card and a Mall Rats book signed by Raymond Thompson.
To enter all you have to do is send in your short story with your membership number to shortstorycomp@entercloud9.com
Stories must be between 1000 and 1500 words.
Stories must be written in English.
Stories must be your original work.
The theme of the story must be Pre-Tribe with at least one existing Tribe character involved.
Stories containing sex themes, swear words, derogatory terms or discrimination will be withdrawn from the competition at the judge's discretion.
Judges will be Emily Willard Internet Coordinator, Saranne James Tribe Writer, James Champion Tribe Writer and Brigid Pierce Tribe Fan Club.
The overall winner from the shortlist of 5 stories will be chosen by Raymond Thompson himself, creator and Executive Producer of The Tribe.
The judges's decision is final. We have extended the deadline so all stories must be received by noon 25th February 2004 NZ time.
Winners will be notified on 5th March 2004.
Good luck!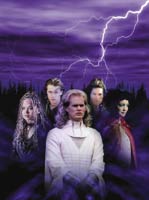 Animation
Cloud 9 will be opening an animation division of the company called "Dreamcloud" – this will bring all sorts of exciting new features to Cloud 9's already impressive portfolio and details of Dreamcloud's first production will be announced shortly. Take a look at the new website
Series 2 on DVD
The second series of the Tribe is due to be released as a DVD and VHS boxset on 29th March 2004. The graphics have been locked off and production of the discs, etc. will be taking place in the next few weeks.