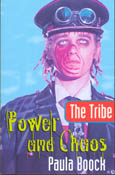 Power and Chaos!
We've got new stock in! The Power and Chaos book is now available from the Tribe Fanclub Store! We've only got limited stock so get in quick with your order! It has been added to the online forms so download a new form if you wish to order. Click here to visit the Tribe Fanclub Store

German Tribe Gathering!
The Power and Chaos fanclub in Germany are planning a Tribe Gathering! It's being held just out of Stuttgart from 24th July to 31st July.
Everyone will be dressing in Tribestyle, using Tribal makeup, playing role-play games, and everyone will be camping out and cooking over a fire and trading food! You couldn't get closer to Tribeworld itself! For more details visit the German Bulletin Board or contact tribegathering@powerandchaos.com.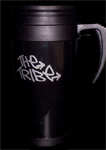 Tribe Thermal Mug – Available Now
At last, we have this really Hot item back in stock. and it's on the order form ready for you to order and own to enjoy your drinks from. Just remember though that this does keep your drinks hot, so be careful!! Take a look at theTribe Fanclub Store for all the Tribe Merchandise available.
Tribe Series 6 update
The writing team are putting pen to paper for Tribe Series 6 so stay tuned to Tribeworld for more news. We hope to have more announcements for you soon.

Dragon*Con
We've had a lot of emails enquring whether The Tribe will be participating in Dragon*Con 2004. We are currently looking into possibilities and will let everyone know in due course.
A track is being organised and you can view the arrangements at – which is subject to change. Whether any of The Tribe cast attend or not there will still be a Tribe Track at the event! We will have announcements in the news soon as to Cloud 9's participation.