Tribe Fanclub Auction!
Our last auction of Tribe memorabilia went extremely well. Morgan Elwell is now the proud owner of Mega's Techno headset. In the next week there is going to be another item up for auction. Tribe Fanclub Members will have the chance to bid on part of the Techno uniform – the long sleeved Techno top.
We'll be starting the auction on Thursday June 1st. The auction is held in the Tribal Gathering forum on TheTribe.tv bulletin board. Fanclub members can log into the bulletin board and gather in the Tribal Gathering forum where we'll be posting all the information in the next day or two.
If you're not already a fanclub member and would like to bid on this top – please visit the fanclub section to join the Official Tribe Fanclub.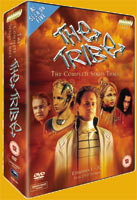 The Tribe Series 3 – Now available on DVD!
Series 3 is now available on DVD! It has already climbed to number 28 on Amazon's best sellers. Get your copies from Amazon.co.uk, Play.com orRevelation Films. Series 3 is full of exciting storylines – here's a sneak peak:
The first day dawns on the age of Zoot. The Mall Rats are starving because they refuse to obey Zoot's laws as set by the Guardian. Tai-San's rejection of the new rules means there is no food for anyone. Rumours abound about the deaths of Lex and Bray following a buggy accident and panic and instability ensue. When the wreckage is examined by the Guardian's Lieutenant Luke, the bodies have disappeared – what has become of Lex and Bray?
Newcomer Pride explains how his tribe live in harmony with the animal world under the leadership of the enigmatic Eagle – but what is her real identity?
The epic story of The Tribe continues as they battle to survive the harsh world, and each other.
A 7 disc set with all 52 episodes. This DVD set also includes the bonus extra – The Tribe Summer Tour 2003. Tribe Series 1 and Series 2 are also available.
There are also tentative dates for the release of Series 4 and 5 – August (series 4) and November for series five. Although these dates could change.
DVD Releases
We've had many fans asking when the Tribe DVD's will be available in the USA and The Netherlands. Each territory negotiates it's own distribution deal. Our distributors are in discussions with other territories around the world but at this stage we have no new details on releases in other countries. Of course, as soon as we hear anything we will let you all know.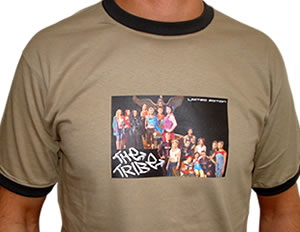 Limited Edition Tribe T-Shirt
The Tribe Printshop is now selling a very Limited Edition Tribe T-Shirt!
The T-Shirt is available through PrintShop – The Tribe's Customised Online Store and features group photos of the cast from Series 5. Get in quick because these t-shirts won't last!
Limited Edition T-Shirt
Limited Edition Tribe Design on a Ringer Style T-Shirt.
100% Cotton for softly soft feeling.
Sizes: S(36) M(38) L(40) XL(42-44) 2XL(46)
Price £ 13.99