Dragon*Con 2004
Cloud 9 and Dragon*Con are pleased to announce that The Tribe will be attending this years Dragon*Con convention! Last year five cast members were invited to the convention and they all had a fantastic time. This year there are three cast members that you'll have the chance to meet.
Victoria Spence (Salene), Danny James (Zoot) and Matt Robinson (Slade) will be attending the convention and immersing themselves in autograph signings, question panels and all sorts of other Tribal activities for the four days of the convention.
Dragon*Con runs from 3-6 of September 2004 in Atlanta, Georgia, USA. For more information regarding Dragon*con please visit their website http://www.dragoncon.org and for more information on the Tribe Panel


Tribe Theatre!
Ever wondered what it is really like to be an actor in The Tribe? Ever considered what it must feel like to speak some of those famous lines on stage before an audience of hundreds? Have you ever wondered what is would be like to wear an official Tribe costume worn by your favourite Tribe character?
The breaking news is that The Tribe, Cloud 9 Ltd and UNICEF have just launched The Tribe Theatre Project.
We have finalised a theatre script, based around scenes from Series 1. You can perform it at your school, youth club or at your local youth theatre group. One day, you could even be appearing in a Tribe production on Broadway in New York or in London's West End. Or in one of a dozen or more capital cities around the world.
The play has been written in association with UNICEF UK, Head of Education, Heather Jarvis. All UNICEF's work around the world is framed by the United Nations Convention on the Rights of the Child, an international bill of rights ratified by all but two countries. The Convention on the Rights of the Child lays down the basic rights of all children and young people up to the age of 18 years, which should be met to ensure their survival, development, protection and right to participate in society.
(Currently only available in the UK) For more information about Tribe Theatre please visit the our Tribe Theatre page.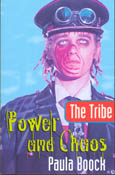 Power and Chaos!
We've got new stock in! The Power and Chaos book is now available from the Tribe Fanclub Store! We've only got limited stock so get in quick with your order! It has been added to the online forms so download a new form if you wish to order.