The Tribe Youth Theatre Project
Ever wondered what it is really like to be an actor in The Tribe? Ever considered what it must feel like to speak some of those famous lines on stage before an audience of hundreds or thousands? Have you ever wondered what is would be like to wear an official Tribe costume worn by your favourite Tribe character?
Well, around the world that is precisely what you will be able to feel and experience very soon.
The breaking news is that The Tribe and Cloud 9 are about to launch The Tribe Youth Theatre Project. What does that mean?
We are currently finalising a theatre script, based around scenes from Series 1. You can perform it at your school, youth club or at your local youth theatre group. One day, you could even be appearing in a Tribe production on Broadway in New York or in London's West End. Or in one of a dozen or more capital cities around the world.
You'll be able to download the script from the web free of charge, and also receive patterns to make your own costumes – and in some countries you'll also be able to buy official Tribe clothing to make your production even more authentic.
To receive regular news bulletins on what's new and happening with the Project, you'll need to register by joining the official Tribe Fan Club. Click here for the official link to join.
Fan club members will be able to chat on line with cast members and the writers, giving you top tips and ideas about how you go about getting your Tribe production on stage.
This could be the start of a long and rewarding career for you on the stage. Grab it while you can!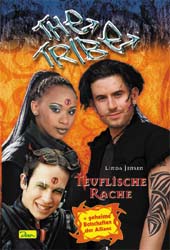 New German Tribe Books!
There are some new Tribe Books to be published this autumn by Dino! There are already 8 great books about The Tribe and these new ones are great! Here's a sneak preview: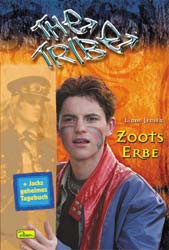 Teuflische Rache (Revenge)
The chaos is perfect. Mega's plan for the city is going to bring it crashing down. The Mallrats have no choice but to play along. Secretly they wait for an opportunity to strike. When Jack, however suddenly changes into a PC specialist and decides to help Mega the Mallrats feel everything is lost. Is there still hope for the Mallrats and their city?
Zoot's Erbe (Zoot's Inheritance)
In the city absolute chaos prevails. RAM is defeated, but the Technos do not give themselves long to recover. While the Mallrats try to repair the damage, Java hatches a dangerous plan. The Techno's want to rule the city – even if it costs lives. But then unexpectedly an old friend returns. And could an old enemy cause the next disaster?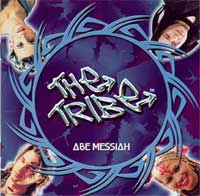 The Tribe Album Re-Mix!

September was the official release of the remixed Tribe Album. As well as all your favourite Tribe songs there's some fantastic new ones including Tribe Spirit, Reflections, and Urban Guerrilla that you're sure to love. The album is being released in Germany first and we'll let you know where else it will be release as soon as we can. Look out for it in your local music stores. You can also purchase it from Amazon.de or the German Tribe Store