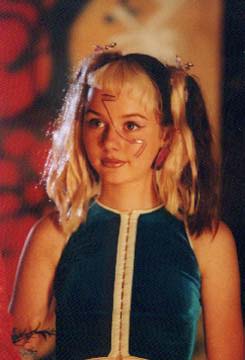 Name
Patsy Series Series 1, 2 and 3
Tribe The Mallrats
Biography
Motherly protector of her deaf brother, Paul, for who she interprets to the others. Initially very timid in the strange new world she has been plunged into, Patsy gradually develops a slightly bossy self-confidence, together with a lively sense of fun and mischief as her friendship with Cloe develops.
Very distressed when her brother disappears, Patsy eventually develops a new strength in her own ability to deal with others.
Cast Member
Name Sarah Major
Birthday 22nd August 1988
Interests Sarah likes to listen to music, read books, watch tv, go shopping, get some sleep.
Biography
Sarah was 10 years old in Series I. She has recorded radio commercials and provided voices for a cartoon series promo.
Sarah has appeared in television commercials, the short film Flying and as Gaela's daughter in Hercules.
Sarah has appeared in William Shatner's A Twist in the Tale – The Magician in which she played the part of Emily Watson.