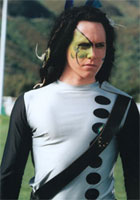 Name
Pride Series Series 3, 4 and 5
Tribe Eco Tribe / Mallrats
Biography
A prominent member of the "eco-tribe", Pride is shy, reserved and polite. He lives by a code of conduct, means no harm to others and has an affinity with nature.
But if necessary Pride will take action and be forthright without hesitation to defend what he feels is right. Is his future in the city or back in the countryside? He has deep feelings for Amber – but might he settle down with someone else?
Cast Member
Name Nick Miller
Birthday 29th August 1980
Interests Nick enjoys, singing, canoeing, skydiving, swimming, rock climbing and being a DJ.
Biography
Nick has acting experience in a range of media.
He has a variety of stage experiences including roles in the Rocky Horror Picture Show, Summer Shakespeare, Arcadia and of course many school productions.
Nick has made appearances in guest roles on many of New Zealand's soaps and dramas. He made his television debut in 1996 in an ongoing role as Sean Kearney on Shortland Street. Nick has also had guest roles on Street Legal and Jacksons Wharf.
The Tribe Series III was his first Core cast role.