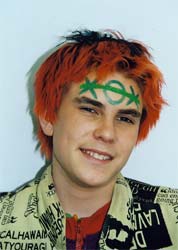 Name
Sammy Series Series 4 and 5
Tribe The Mallrats
Biography
Sammy is a simple boy but Mouse certainly teaches him a thing or two. He's quite happy to follow her around and she helps him voice his own opinions. He's always keen and eager to help people and likes to feel important.
Cast Member
Name Lucas Hayward
Interests Lucas enjoys playing computer games and spending time with friends.
Biography
Lucas is one of the youngest cast members. He has had extra roles on The Tribe before.