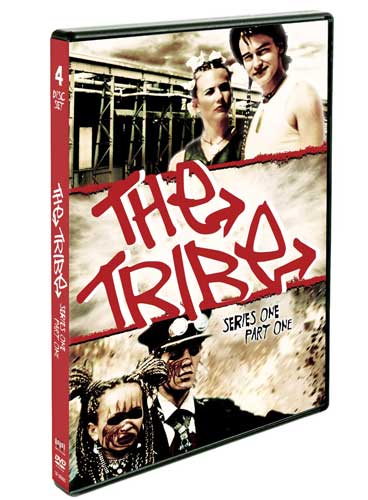 At long last, for our US friends and fans – The Tribe is officially being released as a Region 1 NTSC DVD commencing 2012 (all 5 seasons eventually!) and head office has been working very hard also to link this into Netflix (in addition to the DVD).
See the press release below for more information!   You can also start pre-ordering the official US DVD release on Amazon.com
Hopefully we will have some news for other territories in the New Year.
Keep The Dream Alive!
* * * PRESS RELEASE * * *
Internationally Celebrated Cult TV Hit 
Finally Lands on North American Home Entertainment Shelves!
THE TRIBE: SERIES 1, PART 1
Featuring First 26 Episodes from Season One in a Special 4-DVD set
 OWN IT ON MARCH 13, 2012 FROM SHOUT! FACTORY
Get ready to enter the quixotic world of Mad Max meets Lord of The Flies, a world without parents, teachers or rules. In the wake of a viral epidemic that has wiped out the entire adult population, only the children of the world were left behind to fend for themselves and to reinvent a functional society. Would you be strong enough to lead a group of raucous tweens to safety and re-establish a social structure? Witness the captivating adventures, dramas and human interplays as a group of radical teenagers create a new world they called their own in the popular international scifi TV hit series The Tribe. On March 13, 2012, Shout! Factory will release The Tribe: Series 1, Part 1 DVD set, featuring the first 26 episodes from the first season.  Available for the first time in North America, this special 4-DVD set is priced to own with a suggested retail price of $29.93.
Created by Raymond Thompson and Harry Duffin, produced by Cloud 9 Screen Entertainment, and filmed in New Zealand, The Tribe is a unique teen oriented drama about the mall rats banding together in a post-apocalyptic world. The series tackles topical issues associated with coming-of-age, self reliance and rebuilding a society. This long-running TV series premiered overseas broadcast networks in 1999, as well as on premium cable TV in the U.S., and quickly gained a large followings with devoted fans from Europe, Australia, New Zealand and Asia.
About Shout! Factory
Shout! Factory is a diversified entertainment company devoted to producing, uncovering and revitalizing the very best of pop culture. Founders Richard Foos, Bob Emmer and Garson Foos have spent their careers sharing their music, television and film faves with discerning consumers the world over. Shout! Factory's DVD offerings serve up classic, contemporary and cult TV series, riveting sports programs, live music, animation and documentaries in lavish packages crammed with extras. The company's audio catalogue boasts GRAMMY®-nominated box sets, new releases from storied artists, lovingly assembled album reissues and indispensable "best of" compilations. These riches are the result of a creative acquisitions mandate that has established the company as a hotbed of cultural preservation and commercial reinvention. Shout! Factory is based in Santa Monica, California. For more on Shout! Factory, visit shoutfactory.com.