Tribal Gathering Sunday 26th June, 7 am (New Zealand time) until 8 pm (New Zealand time)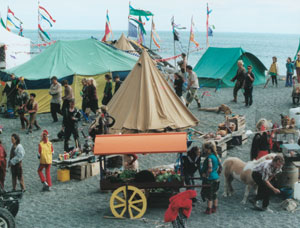 Calling all Tribal brothers and sisters around the world – you are invited to an online Tribal gathering which will be held on our Facebook page as a marathon to celebrate 20,000 members of the page (but that's fast approaching 23,000 now as word of mouth spreads).
Some of our friends and fans will have seen a skeleton framework itinerary of a plan for the day but here is a more detailed account so that you can plan accordingly. Some might wish to join their friends around the world for the entire 13 hours but if due to timezones or other commitments any Tribal brother or sister wished to dovetail in and out then hopefully this will help you diary some of your favourite elements which you may not wish to miss.
Sunday 26th June Online Tribal Gathering Marathon
(NOTE ALL TIMES LISTED ARE AUCKLAND NEW ZEALAND TIME – check your local equivalent times, we suggest using http://www.timeanddate.com/worldclock/converter.html)
07.00 AM – 8.00AM CAST CHAT WITH DWAYNE CAMERON (BRAY)!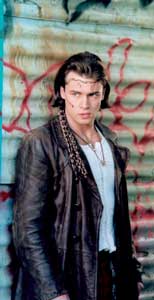 We are grateful to Dwayne Cameron (BRAY) for getting up so early to join us and we are sure you will really enjoy the opportunity of chatting with Dwayne. Go to the main Facebook wall at 07.00 am (NZ time) on Sunday 26th June (you can check what time this will be in your home country) and wait for the TTO thread to open up and then you can post your questions. It is also possible to post questions in advance. This might help for any of you concerned about being blocked by Facebook if they perceive that you are spamming. Often, Facebook will attempt to slow down posts so as not to overload their system so it is a good idea to do these questions in advance and it also gives you a better chance of having your question answered. Don't forget that all who pose a question for Dwayne as well as any other of our special guests will go into the draw to receive a phone call!
08.00 AM VIDEO WELCOME BY RAYMOND THOMPSON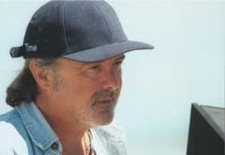 Video welcome by Raymond Thompson, co-creator and Executive Producer of The Tribe, and Chief Executive of the Cloud 9 Screen Entertainment Group.
This video welcome will be posted both on the Wall of Facebook but can also be viewed on the Cloud 9 Group You Tube Channel at any time after it has been posted. So if you miss the first time the video has been posted on Facebook, don't worry.
We are grateful for Ray taking the time to join us on this very special occasion and he is pleased to take any questions you might have about The Tribe or even the television and motion picture industries. Ray has an impressive track record in the industry having written several screenplays for motion pictures as well as novels and his television credits for the BBC include one of Britain's best loved drama series for the BBC, Howards' Way. As Head of Development at the BBC he had a production and creative liaison on a range of BBC titles from Eastenders to Casualty, Bergerac to House of Elliot. Ray has executive produced and created many of the vast amount of productions in the prolific Cloud 9 production portfolio.  He was appointed Adjunct Professor at the QUT in Australia to lecture in the creative faculty.  And was recognized in the New Year's Honour's List by Her Majesty Queen Elizabeth II for his services to television.
08.15 AM – 9.15 LIVE MUSIC CHAT WITH JOHN WILLIAMS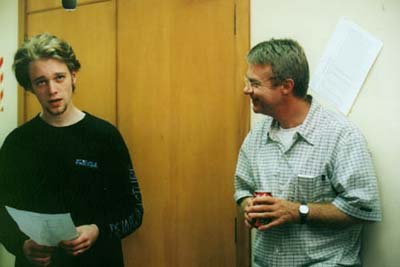 Live music chat with very special guest John Williams, who will discuss 'all matters musical' with you. As you know John was a producer of The Tribe Abe Messiah albums and is working closely with Ray to bring some new Tribe music to you (in fact John has already been in the studios).
For those of you who are interested in the music industry overall, as well as The Tribe, this is a great opportunity to chat with an icon of the music biz. John has a very impressive list of credits having discovered and produced the debut album from The Proclaimers, to producing the Housemartins including the Number 1 single 'Caravan of Love'. John has also been involved with Robert Plant, The Blue Nile, Simple Minds, Status Quo, Alison Moyet, Level 42, Elaine Paige, The Waterboys, JJ Cale, Charlotte Church, Jethro Tull, Debbie Harry, Lloyd Cole, The Wonderstuff, Carter USM, The Almighty, Siouxsie & The Banshees, Paul Weller, Hall & Oates, Paul Heaton, The Cocteau Twins, Killing Joke, James Taylor Quartet, Craig Ferguson, Blameless, Freddie McGregor, Claire Teal, Blancmange – and a whole lot more! And of course, The Tribe.
An accompliced A&R figure within the global music industry as well as a very talented producer, we are grateful for John celebrating the Tribal Gathering with us all and know that you will really enjoy (you can post your questions for John in advance of his live chat)
9.15 AM UPLOAD OF TRIBAL GATHERING 'YOU BELONG TO ME'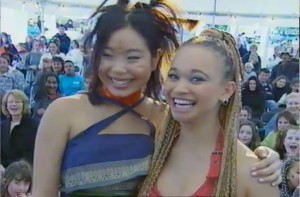 Upload of 'You Belong To Me' Tribal Gathering video on Cloud 9 Group's You Tube channel. Again if you miss the time this video is uploaded, you will be able to see it at any time you want on the Cloud 9 Channel. It's a terrific song and includes (we think) never before seen and rare footage of a live Tribal Gathering which occurred at the Cloud 9 Studios. No doubt fans around the world will be interested to see their fellow Tribal brothers and sisters enjoying that Gathering while they enjoy the online Gathering. We hope incidentally to have more Gatherings both live and virtual in the future and you should check out some of the fans who are also holding their own Tribe conventions around the world.
9.15 AM – 9.45 AM OPEN MUSIC DISCUSSION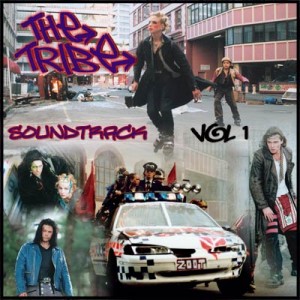 On the Facebook wall, one of our moderators will be helping facilitate a music discussion. So friends and fans might find it of interest to share their thoughts and views on what kind of music they are into, or even what is their favourite Tribe track and piece of music, or Tribe singer.
9.45 AM – 10.45 AM QUIZ 1 – TRIBE MUSIC AND SOUNDS
In keeping with our musical theme, we will have a fun quiz on the Facebook Wall where we will be joined by our musical editors to see how well you know your Tribe music and if you can match this to The Tribe episodes. We will put up some still images from various episodes throughout season 1-5 and you will have a chance to see if you can identify what piece of music was used. We'll also between the questions explain what spotting music is all about in the production process, which is basically deciding where music goes to help punctuate the visual. So we might even post some questions in a ficticious scene of a good example, Amber and Bray having an argument, what music you would choose. Or what about in a battle sequence. Check out your Tribe soundtrack albums to see what you think might best fit.
10.45 AM – 11.45 AM LIVE CHAT WITH RAYMOND THOMPSON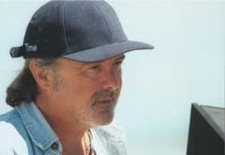 In response to so many requests, we are grateful to Raymond for taking the time to join us and we know that he is very much looking forward to having the opportunity to chat on the Tribe's official Facebook wall. So if you have any questions about The Tribe, now is your chance to ask the man himself who instigated bringing this iconic series to the screen. You might be wise to post any questions in the discussion thread in the advance of the chat and once again, all who pose a question get a chance to win a phone call.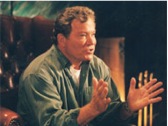 Ray incidentally has written a book which gives an amazing insight into The Tribe. We have been proof-reading some of the galley proofs and having been involved with the series ourselves for so long, it was fascinating to see how it all came together and to discover so many insights. In addition, the book is a very interesting read for anyone interested in the motion picture and television industries whether you are simply a consumer and especially for those wishing to embark upon a career in the industry. You'll get some useful tips as well as a unique look into the fertile imagination of a writer and all that entails.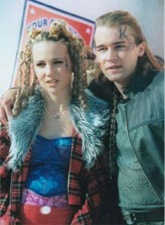 In addition, the book is very inspirational and charts how someone growing up on the wrong side of the tracks in a very poor environment in post-war Britain was able to journey to Hollywood and around the world overseeing a prolific company at Cloud 9, who have produced a range of product (Star Trek fans will find this very interesting with anecdotes of working with the legendary William Shatner and we were intrigued to find bits of information on even Doctor Who when Ray worked at the BBC and his mentor included Mervyn Haisman, one of the famed writers in Doctor Who history renowned for bringing into existence the Yeti in the Patrick Troughton years).
11.45 AM VIDEO UPLOAD OF FAN GREETINGS AND MESSAGES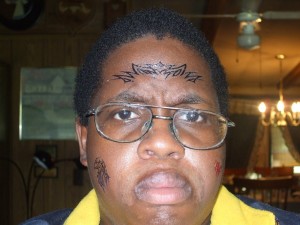 We have been astounded by the wonderful range of videos received so well done to all of you (what a talented group). Once again, the video will be left up on the Cloud 9 YouTube Channel and this is a wonderful opportunity to see footage our friends and fans have shot to wish you all their fantastic personal greetings for the Gathering.
11.45 AM – 12.45 PM FRIEND AND FAN CHAT HOSTED BY MATT ROBINSON (SLADE)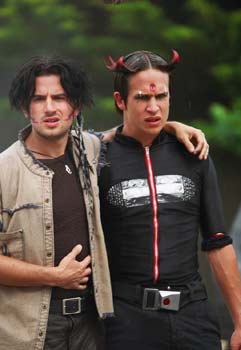 We are grateful to Matt who will be joining us on the Facebook Wall (please note that this isn't a live cast chat – but simply a series of audio questions so you can all post your answers on the Wall, and hopefully we might have the chance to win a call with you! Perhaps we can draw the name out of a hat?). You have had an opportunity of asking the cast questions and on behalf of the cast, Matt Robinson (SLADE) will make a fantastic quiz master as he interrogates you on all manner of questions. So be prepared! 🙂
As interested as you are in The Tribe, you can be sure that we are all very interested in you as well…
12.45 PM – 13.45 PM CAPTION COMPETITION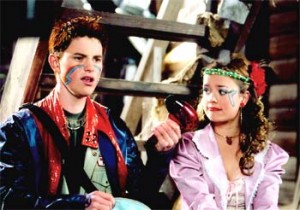 We'll be uploading lots of photographs to an album in the Tribe's Facebook page (including some never before seen) from The Tribe. This will provide lots of fun and no doubt many surprises so sharpen your caption making skills. Look for this in the Photo section of the Tribe Facebook page at the time and you'll be able to comment under each photo and discuss other comments. Sure we will have lots of lols and lulz!
13.45 PM – 14.45 PM QUIZ 2 – TRIBE STORY QUIZ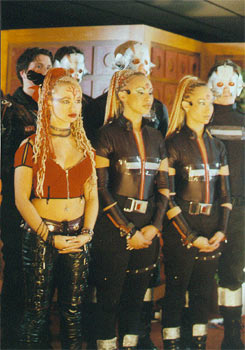 Go to the Wall and look for the threads that TTO will post. Our quiz master will simply ask questions – and then you can post your answers!
If you wanted, you can answer individually but many want to participate as a group, which is fine as well, so that you can exchange thoughts on your own wall with a group of friends (or via private chat/messaging/Skype/Vent) comparing answers but would need to elect a spokesperson to give the answer to the Facebook wall on your group's behalf. Might give you a chance though just as in Trivial Pursuit to go over each question with your friends before answering (if you want to call your group by a Tribe name then that's cool as well so that you would be answering on behalf of the Mall Rats or Locos).
14.45 PM – 15.15 PM – VIDEO UPLOAD BEHIND THE SCENES

Once again if you missed this when it is first uploaded, it will remain on the Cloud 9 Group YouTube channel. Basically, Ray has done a commentary for you to give you a behind the scenes tour of the Cloud 9 studios. Some of this footage was used in the heritage video but you will not have heard Ray's commentary before and we have EXTENDED the footage to give some more behind the scenes of when The Tribe was being filmed. So don't forget to check it out, it makes for really interesting viewing especially for those who enjoy behind the scenes material.
15.15 PM – 16.00 PM – TRIBEMASTER CHAT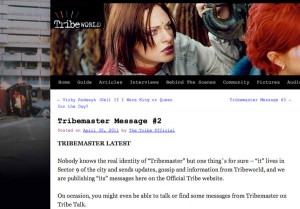 We have to be honest that we have no idea how this is going to work except that the enigmatic and mysterious Tribemaster sent a message to say that he or she or it or whatever it is demands the opportunity to speak with the fans around the world. So just wait for the thread to open up and we'll see what happens (shivers at the thought!), all we know is that a van with blackened out windows similar to the one used in the very first scene in episode 1 of The Tribe series 1 pulled up outside the offices and a tape was left by the door.
If you haven't seen it yet, check out the message from the Tribemaster on the Cloud 9 YouTube channel. Spooky, eh? It sure is for all of us and forgive us if we are unable to type any answers to your questions because if this 'thing' arrives looking like it did in the video then we'll all be hiding under the tables! You may not wish to win a call from Tribemaster (we certainly wouldn't) and forget about its identity being secret and a mystery – it might be safer for us all if we keep our own identities secret and a mystery as well, with this thing lurking in the shadows through all the sectors.
You can send your questions for Tribemaster in advance of his/her/its live chat during the Gathering…
16.00 PM – 17.00 PM TRIBE LIVE ROLEPLAY!
The premise is – there is a pandemic. Adults have died. Young people are being evacuated. Tribes have yet to be formed. But there is panic. Some are taken to the countryside and hills, others looking for refuge in deserted cities. Into this frightening Dystopian world a group of people will join forces to set up their own Tribes.
Please note that it will be possible to continue on with this roleplay on the discussion which we will leave open, once the Gathering finishes.
17.00 PM UPLOAD VIDEO D&C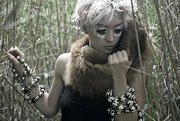 Throughout the years The Tribe has been an inspiration for just so many around the world. When the series was first broadcast it's interesting that the feel and look of the series has sparked various interpretations. We are all thrilled that the extremely talented D&C was once like us all, a fan watching The Tribe on television. Now D&C is exciting and inspiring just so many with her unique music style let alone her fantastic and individualistic self-expression through her own make up and wardrobe. So check out this video which pays an affectionate homage we think to The Tribe while at the same time stamping D&C's own style which we absolutely love. D&C has been working with John Williams who in turn has been working with Ray to bring you some new Tribe music in the future.
Some of this music will be fresh and original wish exciting new artists and some will also feature your favourites from The Tribe. But as with RAM, Jay, the Technos, the Guardian, the Chosen, it was important to bring in new elements who then become part of the Tribal status quo. So we'll always try and balance the old with the new even when the new becomes the old. One thing's for sure though, that The Tribe will never change but just continue to grow and evolve.
Again this video will remain up on the Cloud 9 Group YouTube Channel but do check out D&C who many feel is destined for a global and substantial career in the music industry and it's fantastic to discover exciting new emerging talents in the early days and to support their career. We are honoured that D&C is a fan of The Tribe and all the team are certainly fans of her work and respect her integrity and gifts as an artist.
17.15 PM – 18.30 PM FASHION/MAKE UP/COSTUME PARADE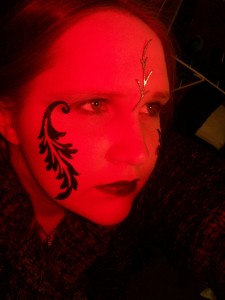 We have received the most AMAZING photographs so go to the Wall during the Gathering and photo section and again you will be able to view designs and make up from your Tribal brothers and sisters. This will be up for a long while so you'll have more time to check it all out further but you will also have a chance to comment below the photos as they are released and premiered on our Gathering day.
Some friends and fans have released drawings of their designs and we will add a couple of the original character sketches for the costume and make up design, which are highly sought after never before seen material (we can't be sure but other sketches might be included in Ray's book – but he certainly discusses the unique designs and markings and what they meant to him as he had a lot of it worked out in his mind including for example the tattoo on Ebony's arm of Abe Messiah. Now that's an interesting point of why Ebony would have that tattoo and is worthy of a question in the quiz so that friends and fans can interpret why this might be so. Ray reveals all in the book and it's really fascinating to gain the authorised insight into The Tribe mythology where all the pieces of the jigsaw are put together to make sense.
18.30 PM – 19.30 PM LIVE TOM HERN CAST CHAT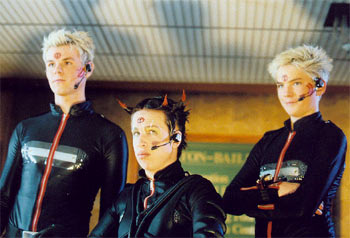 We are grateful to none other than Tom Hern (RAM) who will be appearing for a live chat on The Tribe official's Facebook wall at this time!  Your chance to ask the talented actor and leader of the Technos some questions, thanks to Tom for appearing!  You have an opportunity to post questions before the live chat on The Tribe's Facebook page. As with the other live chats, the TTO team will start a post/thread on the Wall so all of the live questions and answers as they happen can be posted in that one thread, to make it easier for everyone.  And everyone who asks goes into a random draw to win a phone call with Tom!  🙂  Can't wait, it'll be interesting and a lot of fun!
19.30 PM COMPETITION WINNERS ANNOUNCED
We'll have some random prize draws out of the hat to make it fair on everybody to ensure that all participants have a chance to win a prize. For other participants if there is an overwhelming vote of a favourite photograph, for example, then that might be declared the winner. But we'll see how it all evolves on the day. But basically this time is when names are drawn out of the hat for who participated in the quizzes or competitions, are announced (it might be too difficult otherwise to monitor in the quizzes who got the most answers on the anticipated traffic on the wall – but again if there is an overwhelming mastermind of The Tribe that will be self-evident and a special prize will be given and announced in addition to the lucky prize draw).
19.45 PM DETAILS OF RELEASE DATES OF TRIBE BOOKS AND NOVELS
We have been asked to let you know that although we are all huge fans of the previous books and novels released on The Tribe, that these were licensed to various publishers whereby the very talented authors lived within The Tribe brief and storylines but also had (rightly) the chance to interpret backstory details which has resulted in a variant continuity.
The new novels, however, will strictly adhere to the continuity of the series of The Tribe in all backstory matters. In television and even motion pictures, writers as well as Ray have been restricted in what they can do due to the limited screen time in episodes as well as logistical and budgetary restraints. But in the novels, everything is possible and all the stories are able to be opened right up with more detailed examination within the narrative. So we're all looking forward to the novels (as well as details of Ray's book) being announced. We announced at the beginning of the year that two will be released in 2011 and are thrilled that it looks like three will be released. More are planned for release throughout 2012 so there will be lots of Tribe stories as a continuum well into the future through the release of books and also an expanded universe canon approach (i.e. for fans of the Guardian or Alice or any other character we surely will really enjoy getting to know more about them, where they came from and what happened to them).
20.00 PM TRIBE GATHERING CLOSING CEREMONY (TILL THE NEXT TIME)
This is a formalised closing of the Tribal Gathering. A sort of wrap up of events. Till the next time.
And there's more!….
Commemorative DVD release

We'll be releasing a fantastic bumper pack DVD to commemorate the Gathering. It contains more special feature behind the scenes footage, fly on the wall documentary type of material, question and answers from conferences, and some never before seen footage of the very first time the characters were filmed. In addition, we'll be adding the two Tribe music videos plus the Gathering You Belong To Me video. As well as the heritage Cloud 9 studio behind the scenes footage as well as Ray's commentary. But for those who love behind the scenes material then this is a real must. It's a limited edition so get your orders in if you are at all interested to avoid disappointment!
Tribe Shop 20% Discount!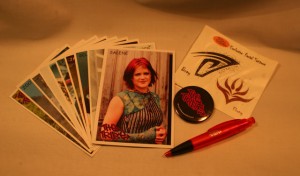 Our shopkeeper will be here at 7 am till 8 pm (New Zealand time) and the shop will remain open during the same hours. In line with celebrating 20,000 members we have been authorised to offer a 20% discount on any merchandise in the shop. If you would like to benefit from this then email contact@entercloud9.com outlining what you would like to purchase and our shopkeeper will invoice you by return so that you can use Paypal and receive your 20% discount. This incidentally is 20% discount on the item (est) and unfortunately we can't extend that to the postage and packaging element. You will certainly receive a very generous discount on the item which due to limited supply is only available through the 13 hours. The shop of course will remain open after the Gathering but for the avoidance of doubt, the 20% discount is strictly limited to orders placed during that time.
We are able to offer the 20% discount on the new DVD which will be released as well.
And don't forget to check out the shop because we found some limited edition collectables from Atlantis High and Revelations (we've got some cool Revelations crew wooly hats, for example).
Tribe novels
The release dates for the novels will be announced at the end of the Gathering but we can give you an exclusive that Ray's book Keeping The Dream Alive will be officially released in December and will make an ideal Christmas gift for any Tribe fans. Please bear in mind that this isn't a novel but the inside story of The Tribe as well as a fascinating account of the industry and a whole lot more!
For visitors to Tribeworld.com as well as friends and fans on the official Tribe Facebook page, a limited paperback pre-release edition will be available from August 1st 2011. We are pleased to be able to take pre-orders (subject to availability) from 7 am the day of the Gathering and Ray has agreed to personally sign each book pre-ordered on the Gathering day which for the avoidance of doubt will be officially released on August 1st 2011 solely for Facebook friends and fans and users of Tribeworld, which is a great coup to have this fascinating memoir available four months prior to official release on December 1st 2011.
So to avoid disappointment and get your autographed copy then it is advisable to pre-order because the release is subject to availability as Ray is keen for it to be a limited collectable. However don't despair because everyone will be able to eventually obtain a copy in December 2011 but if you are desparate and can't wait then you won't have long with this special pre-release going out in August.
Also some very limited German Tribe novels will be made available through the Tribe shop on Tribeworld.com! 🙂