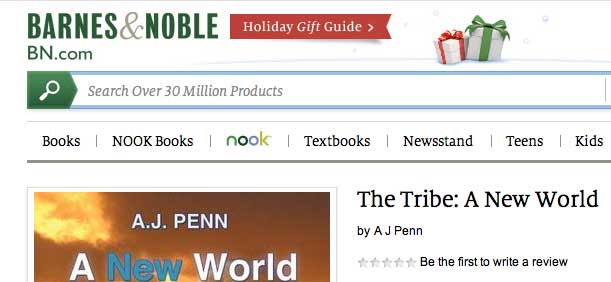 The Tribe: A New World' novel and the behind the scenes book, 'Keeping The Dream Alive' are filtering through all the many book outlets around the world and are now available in general release, both retail and online – as well as through Tribeworld.com!!
1.  Where conventional retail book stores are concerned, it might be helpful to present the ISBN numbers so that your favourite or local book store can order your copy (if indeed they do not have one already in stock – many book sales are now conducted through online outlets).
Click the links below which will take you to pages with info about each book – and the retail outlets where the books are stocked/can be ordered (like W H Smith in the UK, Angus and Robertson in Australia, etc)
'The Tribe: A New World' by A.J. Penn (ISBN-13: 9780473199388)
'Keeping The Dream Alive' by Raymond Thompson (ISBN-13: 9780473193423)
2.  Where all the online outlets are concerned, both books should be available on book sellers like Amazon.com for example or you might like to browse your favourite book shop's online stores (such as barnesandnoble.com) – check out 'The Tribe: A New World' by A.J. Penn or 'Keeping The Dream Alive'  for a list (updated regularly) of online retailers where the books can be obtained
3.  It is still possible to also order copies of The Tribe: A New World and Keeping The Dream Alive through Tribeworld.com.  But the deadline for the collector's edition signed by the authors has now expired.  However the good news is that Cumulus Publishing has been working very hard to rectify the high costs associated with shipping from New Zealand and we are pleased to advise that it is now possible to source these orders which will be printed and mailed from localised countries! 🙂
We have also tried to introduce two options in each country.  The first being basic economy post (but please be aware this is untrackable).  For a slight premium shipping cost, we are now pleased to provide a trackable shipment for orders via Tribeworld.com which should be able to reach you within a few days.
So depending on where you live, it may be faster to order from Tribeworld.com with different delivery options available – or from another outlet like Amazon.com.  The choice is yours! 🙂
4.  Ebooks – Both 'The Tribe: A New World' and 'Keeping The Dream Alive' are available as digital e-books (for Amazon's Kindle, Apple iBooks and other online outlets) in January 2012.  We'll post details as soon as we have definitive dates and pricing information.
If you do pick up one of the general release books, we hope you enjoy reading.
More books coming soon…