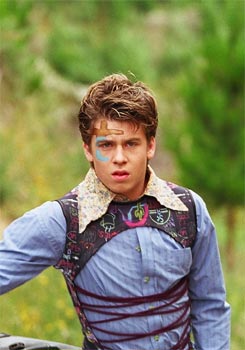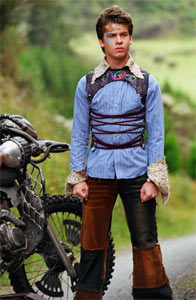 Over the next few weeks we are going to profile a few of the costumes used throughout the series. From the way they're made to why they were designed the way they were. This week is Darryl's Tribe 5 costume. Click any of the costume pictures for a larger view.For a new character Darryl has had a lot of costume changes. This is his second one in Series 5 and we may profile his third one "the punk style" in a few weeks.

Darryl started off in a copy-cat Zoot costume when he was hired by Mega to play the mysteriously reappearing Zoot. But then when Mega had had enough it all turned pear-shaped and Darryl was dumped in a bin.

Slade came to his rescue and looked after him for a few days, got him some new clothes, fed and watered him and then decided to take him back to Liberty.

Darryl is a real character. Very sure of himself but doesn't always get things right.

This costume was his new start costume. Forget Mega, forget Zoot, and see what life has to offer next. Could it be described as "Cowboy Grunge?"

This light purple cotton shirt was bought from a shop and converted into "Tribe style". It's light purple in colour and has black vertical double lines across it.
The collar of the shirt was cut off and a new floral one added. It's a large oversized collar that is supposed to be prominent.
The same has been done with the cuffs. No buttons here – new large floral cuffs have been sewn on and are left open.
The bottom of the shirt has also been cut off and left to fray.
Finaly some new buttons have been added to the front. They are green star shaped buttons about 1 1/2 cm across and there are five of them down the front.

The vest. I love the whole look of this vest. The wardrobe department are just full of funky ideas like this one. And it looks really great with the long sleeved shirt underneath.
The vest is made of two layers. Black lycra forms the base of the top and then a slightly sheer multi coloured fabric has been sewn over the top as the second layer. The top layer actually has all sorts of crazy little pictures on it that look like bright neon signs from Las Vegas.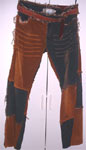 I guess the best way to describe the shape of this garment is it's a wide shouldered singlet with the front cut out. There's a piece left at the top of the chest to hold it on and down each side are 11 silver eyelets. Through these eyelets is a maroon drawstring which is threaded through every second eyelet and tied at the back.
These jeans were actually bought from a shop and its' hard to tell how much the wardrobe team have mucked around with them. In fact they possibly didn't.
They bootlegged and a stretch fit. They are made of aged denim and brown corduroy. The jeans are half and half everywhere you look. If one side is denim then the other is corduroy. This extends to the pockets on the back as well.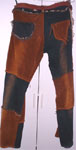 Every seam except the inside leg and bottom of the legs is sewn with the ouside edge protruding. And all these seams are frayed with both types of fabric as they join.
At the top of the thigh on the front both pieces of fabric have the whisker effect. The horizontal lightened lines going across each leg.

Darryl wears a brown snakeskin embossed leather belt to hold them up.
There's not much jewellery to go with this costume. He is afterall a guy and it's best to keep it minimal.
What Darryl does wear is a beaded bracelet. No two beds are exactly the same and they're a mixture of wooden, plastic and plasticine. This is worn on his right wrist.
Lastly Darryl's shoes are not what I expected to go with this outfit. They remind me of boat shoes.

They're actually called "Ben Sherman" shoes. They have a leather upper and the sole is rubber. The sole extends up the back of the shoe and up the front and they have square toes.
Another Tribe Style coming soon…