Read all about it!  Books of The Tribe are now available on Google Play™ in 40 countries around the world, giving another great way to read more of The Tribe in more ways! 🙂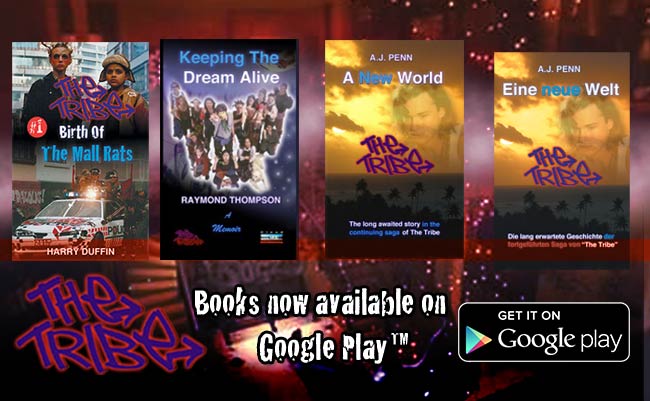 If you have Android phones or tablets you can install the Google Play Books app to read The Tribe eBooks of your choice (there is also an app available for iOs if you have iPhone or iPad).  Another way to read the books is on your laptop or PC from within your browser… and there is also a way to read the Google Play Books version on your Barnes & Noble Nook or Sony eReader.  So many technological options for all budding Technos – Ram would be so proud! 🙂
Here are the links to get the Tribe books on Google Play…
The Tribe: A New World by A.J. Penn – continuing the official story of The Tribe after season 5.
The Tribe: Eine neue Welt by A.J. Penn – Die Geschichte über das was als nächstes passieren wird, ist jetzt über Google Play und alle anderen Online-Buchhandlungen erhältlich.
Keeping The Dream Alive by Raymond Thompson – a behind the scenes look from the creator and Executive Producer into why and how The Tribe was made and came to be.  Also some advice for all aspiring to write or get into the film and television industry.
The Tribe: Birth Of The Mall Rats by Harry Duffin – a novelisation of the first series of The Tribe containing many never before told stories and moments , unseen on screen, from the co-creator of the original series.
We hope to have news on more Tribe book releases coming soon in more languages – including the long awaited follow up to The Tribe: A New World, which continues the official story of The Tribe.   Keep the dream alive!
These books of The Tribe are also now available on Amazon Kindle and the Apple iBookStore 
Google Play is a trademark of Google Inc.