The live chat with Ray and AJ to talk about the newest Tribe books and the official story after season 5 of The Tribe took place on Sunday 15th March on Reddit.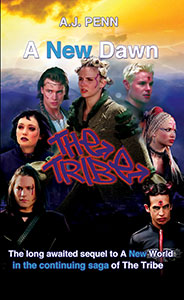 It was The Tribe's first 'Ask Me Anything' chat on Reddit and here is a link to the transcript on Reddit so you can read what happened.
Keep a look out for the username we have reserved on Reddit, which is called  'thetribeofficial' (http://www.reddit.com/user/thetribeofficial/)… we hope to be doing some more live chats in the near future to discuss all Tribal things and the Reddit AMA seems like a good way to allow the live chat to happen.
Also please subscribe to the new Cloud 9 Channel on YouTube (https://www.youtube.com/channel/UCcuyxhhW5glM3SH4uLwtBvw) as we're uploading our series, Revelations, which stars many of your favourite Tribal cast – and don't forget to check out Atlantis High and The Tribe TV Series channel on https://www.youtube.com/user/thetribetvseries
Ray and AJ enjoyed answering the questions.  Thanks to everyone who joined in – and looking forward to the next live Tribe chat.  KTDA