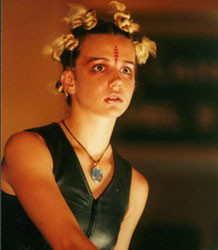 Name
Amber / Eagle Series Series 1, 3, 4 and 5
Tribe Mallrats
Biography
An attractive, fiery, intelligent girl who initially assumes control of the group through her natural leadership qualities. Amber has had to become streetwise the hard way, though her background is middle-class, private school education. She's fiercely moral and determined that something positive will come out of their predicament. This leads her to sometimes be too hard on everyone, herself in particular. In reality, a sensitive, caring soul, Amber has a great longing for love deep inside her, which she keeps hidden, fearing that to reveal it will make her weak.
Cast Member
Name Elizabeth (Beth) Allen
Birthday 28th May 1984
Interests "Reading, movies, the beach, building on the strong relationship with my bed".
Biography
Beth was 14 years old in Series I – she has been acting since 1993. She was a member of the PAS Children's Theatre and appeared in Pinnochio and Hairy Maclary at Auckland's Aotea Centre.
She has been in several television commercials, had a guest role as Eva in the television drama Riding High and played Young Julie in the feature film The Ugly.
Beth was a core cast member in Cloud 9's The Legend of William Tell, in which she played Princess Vara.
This was followed by a lead role in William Shatner's A Twist in the Tail – The Green Dress.