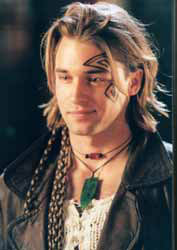 Name
Bray Series Series 1, 2, 3
Tribe The Mallrats
Biography
A handsome, confidently cool, enigmatic young man. A natural loner, content with his own company, Bray is an experienced eco-warrior and activist.
He distrusts all leaders and initially refused to assume his natural role within the group. On the surface very sure of himself, inside he's a turmoil of emtions about his suspicion among the others. Tall, well built, Bray can handle himself, but whether he could match the manic ferocity of his rival, Lex, is in doubt.
Cast Member
Name Dwayne Cameron Birthday 28th October 1981
Interests "Art, art, and more art. I paint, draw, sketch, do photography, acting (surprise!). I make small movies at home. I like anything that's creative".
Biography
Dwayne was 17 years old in Series I – he trained at O'Grady's Drama Academy in New Zealand.
His experience in television drama includes roles in Amazon High and One of Them.
He has also appeared in several television commercials. Dwayne played the part of Chris in Jessica's Diary , a screenplay in the Cloud 9 series William Shatner's A Twist in the Tail.