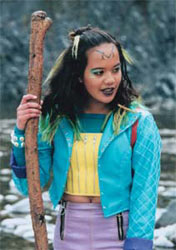 Name
Cloe Series Series 1, 2, 3 and 4
Tribe The Mallrats
Biography
A slightly withdrawn loner who initially relates better to animals than to people. Not very practical in other ways, Cloe can be a source of irritation to the others by neglecting her duties to deal with her own "crises", of which there seem to be many. But her moans and melodrama are often no more than a source of refuge from the alien, dangerous world outside, and her fears for the future.
Like her friend, Patsy, Cloe can be very forthright and feisty when roused.
Cast Member
Name Jaimee Kaire-Gataulu Birthday 7th April 1987
Interests Jaimee likes travelling and playing the piano.
Biography
Jaimee was 11 years old in Series I. She has a variety of experience in film, radio and television. She has had roles in the short films Clown Story (1996) and The Birthday (1994) and she played the lead in the short film The Kiwi and the Water Melon (1993).
Her television work includes roles in The Visitation and Xena. Most recently, Jaimee has worked as a reporter on What Now for KVNZ.