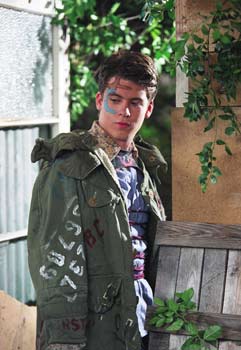 Stoneybrook was about 150 miles into the hills to the east of the city. It was a homestead that had been in the Fletcher family for four generations and was well known throughout the area to be one of the best cattle and sheep farms in the territory.
Darryl's father Stephen now owned it after it had been passed on to him by his father. 700 cattle and 500 sheep roamed the pastures and hills on the 700 acre property and up to 30 people were employed at one time.
Darryl was an only child. His mother had been through years of miscarriages before trying In Vitro Fertilisation (IVF). It had cost them a few thousand dollars and a couple of years but finally Claire had become pregnant. At five months she was told she had better stay in bed for the rest of her pregnancy to help stop any complications. Nine months later her baby boy was born healthy and happy.
Darryl loved the countryside – he had known nothing else all his life but from the quick trips that were made into the city each fortnight he didn't think he'd ever want to live anywhere else.
When he was five he got his first horse. It was a Shetland Pony called "Toby". He was black and white and used to sneeze all the time. It didn't take long for Darryl to learn how to ride and he would follow his Dad around the farmhouse being careful not to get in the way of the big horses. He used to prance around with his pony like he was part of a circus and the farmhands thought it was great entertainment.
Because Darryl didn't have any brother's or sisters he often felt a little lonely and had to make up games with himself and Toby. He wasn't able to go to school because it was so far away and so instead he had to school at home. His mother was a good teacher and Darryl was a good learner but he would get easily distracted by the window as he saw the riders rounding up the sheep.
When the farm helpers would come and stay Darryl would get all excited and run out to meet them and introduce himself.
At shearing time Darryl would sit in the woolshed watching the men shearing sheep after sheep. They thought he was a great little kid and loved it when he would put on silly little skits for them. He was certainly a performer and he loved the attention but sometimes he'd get a little too silly and then Dad would tell him to go inside and help his mother. All he really wanted was to help shear the sheep.
One afternoon when Darryl had finished his schoolwork he snuck out to the woolshed – it wasn't being used today so Darryl knew he wouldn't get caught. He had a pet lamb around the back of the house called "Lucy" and today he was going to prove to everyone that he was more than capable of shearing.
He tied a rope around Lucy and managed to lead her round to the shed past the kitchen window without his mum seeing.
One of the farm hands had shown him how to turn the shearers on and which way to hold the sheep. He knew what he was doing he'd seen it hundreds of times before…