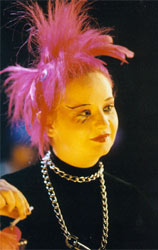 Name
Dee Series Series 4
Tribe The Mosquitos and The Mallrats
Biography
Before the Technos, Dee was deputy to Moz's in the Mosquito Tribe. Fate brings her to the Mall Rats. Dee sincerely wants the city to be peaceful and prosperous once more and will do all she can to achieve this.
She will protect her own family tribe from danger and is courageous. Dee has a sense of humour which sometimes results in witty comments – other times, in sarcasm. She does not aspire to ever lead and is happy to be "one of the gang". She hopes to meet "Mr Right" one day but in the meantime is quite suspicious and cynical about men – but who knows what fate has in store for her…?
Cast Member
Name Kelly Stevenson Birthday 7th November 1983
Interests Kelly enjoys singing, shopping and dancing.
Biography
Kelly was 18 years old when filming The Tirbe and has long dreamed of being in the entertainment industry.
She is a terrific singer and loves music as well as being a natural actress.