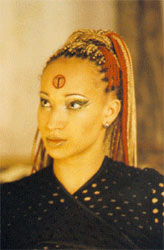 Name
Siva Series Series 4 and 5
Tribe The Technos
Biography
Like her sister, JAVA, Siva is betrothed as one of RAM's "girls" and carries considerable influence in the Technos. But unlike JAVA, Siva is not content with this – she fears RAM for his anger and jealousy and doesn't like being anybody's "property".
Siva is looking for genuine love with the guy of her dreams – this isn't RAM. But she is loyal to RAM for what he has done for her and will defend him. With good computer skills and hand-to-hand fighting, SIVA often leads ground operations for the Technos.
She and JAVA sometimes argue about RAM and what to do – but they are united in loathing and contempt for someone from their past who may threaten their futures….
Cast Member
Name Monique Cassie
Birthday 20th August 1979
Interests Monique enjoys hairbraiding and hanging out with friends. She also likes playing Netball and Touch Rugby.
Biography
Monique portrays Java's sister on screen in Tribe 4 and in real life, is sister to Megan Alatini and Meryl Cassie.
Monique is a very talented singer and dancer. She has had various roles in Hercules, Xena, and Shortland Street.