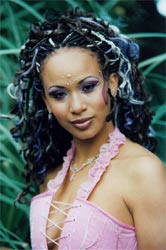 Name
Java Series Series 4 and 5
Tribe The Technos
Biography
As one of RAM's "girls", JAVA exercises great influence within the Technos. She is loyal and protective of RAM, appreciating all he has done for her. JAVA is also respected on her own merits – she has excellent computer skills but is mostly admired (and feared) as a ruthless warrior with great fighting skills.
This has led JAVA to accompany Jay on many ground operations – and she has developed quite an attraction for Jay. Should she chase Jay or stay with RAM? A face from the past threatens to shadow the future of JAVA and her sister, SIVA…
Cast Member
Name Megan Alatini
Birthday 29th September 1976
Interests Megan is a keen netball player and has represented New Zealand in Touch Rugby. She also loves to sing especially with her sisters Meryl and Monique.
Biography
Megan comes from a family with a tradition in the entertainment industry and is herself a very talented singer, previously being in Kiwi chart-toppers "Truebliss".
Megan has appeared in other television roles including Shortland Street, Young Hercules and various television commercials.