Easter. It means many things to many people – everything from the resurrection of Jesus to chocolate eggs, from little spring chickens to the fabled Easter Bunny and his basket of eggs. But what would Easter be like in Tribeworld? This worldview article takes a look at Easter in Tribeworld…
COLD HOT CROSS BUNS?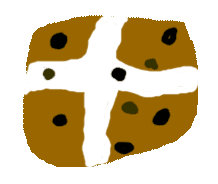 We know there are no adults in the world of the Tribe – and that means today's structure of society is no more with its global economy, communications, mass production – all of this has changed, with enormous consequences for the way people live.
With no supermarkets or grocery shops, no mass produced farms, and no advertising or marketing campaigns to drive it, Easter would take on a different meaning than it does today.
There would be no chocolate candy eggs or hot cross buns that you could buy in the shops – because there are no shops and no companies to make the eggs or hot cross buns anymore!
If you wanted hot cross buns around Easter time – you would have to make them yourself. Unless you had a supply of electrical power (through batteries or wind or water-power) then cooking would be a bit of a problem. Perhaps a gas cooker would be around somewhere – but you would need patience and plenty of flour and raisins to cook the hot cross buns. Life in Tribeworld would be a lot less convenient than it is today when it is just a case of popping to a shop and picking up some yummy hot cross buns or Easter eggs!
You may still find a supply of Easter eggs in an old factory, shop or warehouse that would have been made before the virus. Yummy chocolate, eggs and candy – that would make any Easter sweet!
WOULD EASTER BUNNY SURVIVE THE VIRUS?
The virus afflicted the adults and changed the world forever in the Tribe. But would Easter Bunny still survive after the virus?
Many kids and Tribes would not bother about the Easter bunny any more. Without calendars or diaries perhaps they wouldn't even know it to be Easter time.
But more than that, would people have the energy for Easter? Each day is more about survival on the streets and in your Tribe, about building a new world in your own image – is there time for Easter or would it become less priority, less important than today?
We feel Easter would continue. Easter is generally a fun time of year and older kids like Bray and Amber would want younger kids to enjoy Easter, to be happy and have a fun time with decorating eggs, chocolate eggs, stories about the Easter bunny. There is time for happiness and fun even in Tribeworld and we feel Easter would still be around on that basis alone.
But more than that, Easter is itself about new life and hope. People like Bray, Amber and Tai-San might feel celebrating Easter is more than a fun period of days – it has deep and profound philosophical and religious issues which apply to Tribeworld as much as it does to today's world. Indeed, the message of hope and new life might be more relevant in the world of the Tribe than today because of the struggles and dangers people would encounter each day in Tribeworld. So in that sense perhaps Easter would be more important than ever if "used" in the right way – as a time to remember new life and hope.
And Easter Bunny? We feel Easter Bunny would still make his regular visit to young kids and give them some Easter eggs or a little collection of treats. Easter Bunny would survive the virus – after all, it is a rabbit and not a human so perhaps the virus would not have affected him?

EASTER BUNNY ON A SKATEBOARD
It is likely that the Easter Bunny would change in Tribeworld. Instead of hopping from house to house each year with a basket of eggs and goodies, perhaps Easter Bunny would use a Tribal mode of transport – like a skateboard?
In fact, if that is the daily way of life in Tribeworld then wouldn't people's perceptions of the Easter Bunny change? Maybe the Easter Bunny would be part of Tribal graffiti?
Would Easter Bunny give batteries or other important goodies out instead of Easter eggs?
Would Easter Bunny change and become linked with a Tribe? Perhaps the Chosen would teach younger Chosen members that the Easter Bunny knew Zoot?
Maybe since the world of the Tribe is different then the Easter Bunny would have to adapt…?
So we feel Easter would change in the world of the Tribe in many ways – but in other ways, Easter would remain what it essentially always has been – all about life and hope.
Keep the dream alive and whatever you do at Easter, we hope you have a good one!