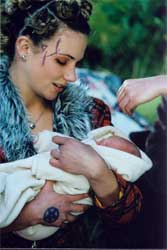 Easter is all about new life. At this time in tribeworld it is likely that Easter would be celebrated once again as new life has been a recent highlight of some very dark times.
BABY BRAY is the latest addition to the tribal family and his life is one that Amber holds very close to her heart. Not only as any new mother would cherish her new baby but because her partner Bray has been missing for quite some time and is now presumed dead. Amber would be focusing on her baby's life and would want to celebrate it.
BRADY is at the age where she would enjoy making coloured eggs with her mother and giving them to all of her surrogate family. She might even get to make some chocolate eggs as Trudy seems to be quite a good cook and the electricity is back on.
EBONY would probably enjoy giving an Easter egg to Zoot to celebrate his resurrection. It might be a black one as his comeback seems to be an unwelcome one with most of the city but Ebony herself would be happy to cover it in gold leaf as she sees the return of Zoot as her meal ticket to the ultimate resurgence of power and chaos.
GEL would be the type of person who would love to receive an Easter egg. Only hers would be in more the traditional style – a Faberge one. Yes, a beautifully bejewelled egg to match her eyeshadow and lippy would be just what this girl would want.

SLADE is bound to be the man who would receive more than his fair share of Easter treats as he has more than one admirer. Would he take them all gladly or would he be selective with his gifts?
RAM is the sort who would be pleased to receive a nice egg with a difference. He would like it to be remote-controlled or something so that he could play with it. Or he would probably also get some joy out of a beautifully coloured egg that he could admire before crushing once his mood changed.
SALENE would be in no mood to receive an Easter egg. She is still reeling from the loss of her partner Pride and everyone is literally walking on eggshells when they are around her.
MEGA is not the sort of person you could imagine giving an Easter egg to but he might like a hot cross bun to dip in his tea whilst he contemplates his next move.
RUBY would like eggs for one reason only – so that she could throw them at patrons that misbehave themselves in her bar. There's no messing with this chick!
Who would you like to give an Easter egg to? How many hot cross buns can you eat? However you decide to celebrate we wish you all a wonderful time – and we're not yolking!