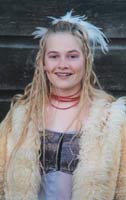 Name
Ellie Series Series 2, 3, 4 and 5
Tribe The Mallrats
Biography
A practical joker with a sense of humour, Ellie's pranks can sometimes get her into trouble.
Impulsive and eccentric, Ellie is learning about life. A computer expert, Ellie is attracted to Jack and determined to use her skills to find out more about the virus.
Cast Member
Name Jennyfer Jewell Birthday 7th June 1984
Interests Jennyfer enjoys bicycling, dance, horse riding, music, running, singing, skiing and swimming.
Biography
Jennyfer was 15 years old in Series I of the Tribe and has a lot of experience in television. Her previous roles include the Enid Blyton Secret Series and The Enid Blyton Adventure Series (also made by Cloud 9) as well as Mirror Mirror and The Storytellers.
She has also been in theatre in The Thingamajigs and the Buzz O'Bumble Show, as well as roles in short films and commercials.
Jennyfer attended the Film Acting Workshop and performed Ballet for four years.