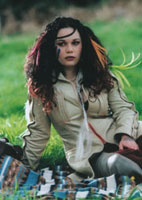 Name
Danni Series Series 2
Tribe The Mallrats
Biography
Passionate and full of purpose, Danni strives to make a better world. She is fiery and can be stubborn. She is persistent and will never give up. But her determination to build a better future is driven by a secret from her past that she is hiding and hopes it will not be discovered.
Cast Member
Name Ella Wilks Birthday 24th February 1985
Interests Ella enjoys travelling, acting, singing, dancing, swimming, and art and drawing.
Biography
Ella was 14 years old in Series II. She has been in several plays including lead roles in Romeo and Juliet, and Squabble.
Ella has four years of acting at the Performing Arts Centre and three years of dance. She has also been in videos and documentaries.