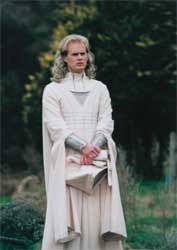 Name
The Guardian Series Series 2 and 3
Tribe The Chosen
Biography
A fanatic genius or a madman? Or both? Devoted to Zoot and making real the philosophy of "power and chaos" the Guardian is adored by the Chosen but feared by his enemies and the rest of the city.
Is he becoming insane? What does he really want to achieve – and what will he do to make real his goals? It seems the Guardian will do absolutely anything…
Cast Member
Name Damon Andrews Birthday 28th October 1971
Interests Damon's interests include; Guitar, Martial Arts, Swimming, and Skiing.
Biography
Damon graduated from the New Zealand Drama School in 1992.
Since then he has accumulated a wide range of experience in Theatre, Television, Television Commercials, Radio Plays and Film.
In the theatre, he has been in A Man's World, Split (which he co directed), Estimated Time of Arrival and Wind in the Willows.
Damon has done a Trainee Directors and Writers course which he loves to put in to practice and has written a few plays.
Damon first featured in the Tribe as the Guardian in 1999.