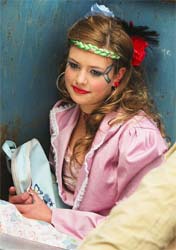 Tornado Trailer Park, home for those without a home. Number 6 – "My Piece of Paradise" – was smack bang in the middle of the park and everybody knew the owner. Betsy was a saleswoman for a well- known cosmetics company, Glowell and she was the life and soul of the neighbourhood. One to throw a party at the drop of a hat, Betsy was well liked by all and her door was always open.
She hung fairy lights around the windows of the trailer and she spent most of her time sitting in her lounger on the patch of greenery that she called a lawn, waving to passers-by and gossiping with the neighbours. Her laugh was unmistakable and carried on the breeze like a peal of bells. Admirers would line up to be invited onto the lawn for an iced tea and there were more men that went through that trailer than there were at the local factory!
Betsy never could stay in a relationship. She was a feisty woman, knew what she wanted and what she did not want was a man to tie her down. She loved having the girls around for card games and she often went away on Glowell seminars. She loved to be free to do what she pleased! Any relationship she had lasted no longer than 6 months and that is just the way she liked it. That was, until she fell pregnant.
Anderson stuck by her throughout the pregnancy but when Gel (named after Betsy's favourite shade of eyeshadow) was seven months old, Anderson walked out the door, hopped onto his beat-up old Harley and rode off into the sunset – along with the savings from the cookie jar and all of Betsy's jewellery.
Betsy was lucky to have such good neighbours to help her with the baby and Gel never wanted for love. She was surrounded by clucky women from the park, all smelling of Glowell's number 4 perfume or Glowell's Own Body Lotion and ready for a cuddle.
Betsy and Gel were the best of friends and spent all their time together. Gel would clutch hold of the cosmetic catalogues that Betsy would drop off around the posh streets of Bellevue and watch the world go by from the comfort of her stroller. Gel grew up learning to read from helping her mother with the catalogues and from the multicoloured cartons of cosmetics and Betsy delighted in the fact that Gel's first word was Glowell!
The best times of Gel's life were in the summer when people would stop by and stay for a BBQ and laze around the lawn in loungers. The ladies would dip their pretty painted toes into the paddling pool, as Gel would happily splash around. As it grew dark, Gel would be wrapped up in a blanket and she would become hypnotised as she watched the fairy lights flickering off the trailer. She would fall asleep in her mother's arms with the warm breeze blowing across her face and laughter in her ears as the women gossiped and chatted away deep into the night.
Betsy had several different boyfriends when Gel was growing up but she didn't trust any of them, not since Anderson had done the dirty on her. Gel was used to having a different 'uncle' every other week and her attitude towards men developed at about this time. Flirting was okay if it could get you a hot dinner. But relationships were no good. At least that's what Betsy always said.