| | |
| --- | --- |
| Interview: Interview with Jennyfer Jewell | |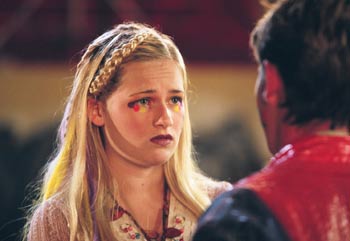 Behind the Makeup…
TW: What colour are your eyes?
Jennyfer. – Green/Brown
TW: What do you do to take care of your skin?
Jennyfer. – Wash. Get all makeup off as soon as I wrap.
TW: What do you do to take care of your health?
Jennyfer. – Eat at least thre good healthy yummy meals a day, and walk everywhere ('cos I can't drive).
TW: Are you concerned about your looks given the business you are in?
Jennyfer. – Nah. Can't be bothered – there are more important things.
TW: Would you consider putting on or losing a lot of weight for a part?
Jennyfer. – If it was necessary for the character. Dunno if I could though – I'm morally opposed to dieting.
TW: Do you think that weight and looks should be important in the film business or do you think that there's too much pressure put on actors to look a certain way?
Jennyfer. – For some parts obviously weight and looks are important (starving children need to look thin, sumo wrestlers don't), but otherwise I think actors and actresses should look healthy, and as though they eat.