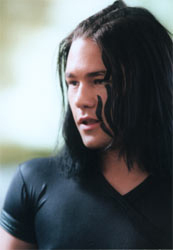 Name
Lex Series Series 1, 2, 3, 4 and 5
Tribe Mallrats
Biography
A hard, arrogant, street-fighter, full of macho bravado. A natural bully, Lex inspires fear, rather than respect, among the rest.
Resentful towards Amber, who the others respect as their leader, Lex is as devious as she is honest. But Amber is more than a match for him, sensing a basic insecurity in the young man, which stems from his lack of education and inability to read and write, of which he is ashamed and keeps a closely guarded secret.
Someone to have on your side in a fight, but also someone never to turn your back on.
Cast Member
Name Caleb Ross Birthday 10th December 1981
Interests Music, photography, singing, martial arts, and reading.
Biography
Caleb was 17 years old in Series I. As a member of the Whangarei Amateur Opera and Dramatics Society he has had a variety of stage experiences including roles in Evita, Godspell and Peter Pan.
In 1994 Caleb played the part of Brett in the New Zealand feature film Avondale Dogs.
His television work includes playing Temecula in Xena and Logan Patterson in Shortland Street. Caleb has also had roles in Hercules and Plainclothes.