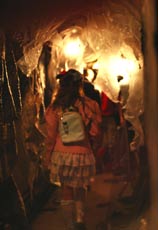 Where does this cave go?

Tribe 5 is into week 14 of production from Monday 10th February 2003 – …. BUT what happened last week during filming of Tribe 5?
You'll find out below!!
Only three weeks left of filming for Tribe 5!
The scenes
125 scenes were filmed from Monday to Friday last week, and this totalled over 140 minutes of shooting time.
The parallel unit were on four out of five days and covered scenes at the studios while the main unit were out on location.
More interesting scenes this week including an unlikely romance and a full on catfight between two ladies.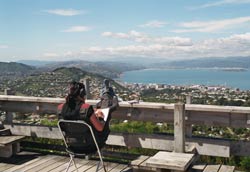 Relaxing and admiring the view from Wrights Hill
The locations
Monday filming took place at the studio.
Tuesday they filmed at Whitemans Valley and the studio.
Wednesday they were at Whitemans Valley and the studio.
Thursday filming was at St Patrick's College in Silversteam and the studio.
Friday was at Wrights Hill in Karori and the studio.
Make a start!
The earliest crew call this week was 7.00am.
The earliest pick up for our cast was 5.40am for Antonia Prebble (Trudy).
The weather
What a great week for weather! Beautiful blue skies and barely a cloud in sight. The cast and crew spent time between scenes working on their tans!
Here's the record of the weather in week 13 of the production:
| | |
| --- | --- |
| Monday 27th January | Mostly fine |
| Tuesday 28th January | Fine and sunny with light winds |
| Wednesday 29th January | Fine and sunny with light winds |
| Thursday 30th January | Mainly fine with northerlies freshening |
| Friday 31st January | Fine and sunny with northerly breezes |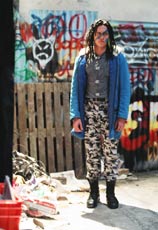 What's Pride up to?
Join us next week!
Stay Tribal and Keep the Dream Alive…