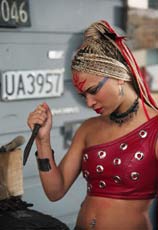 Angry or sad?
Tribe 5 is into week 13 of production from Monday 3rd February 2003 – …. BUT what happened last week during filming of Tribe 5?
You'll find out below!!
A busy week of filming and also a promotional shoot on Monday for WAM!
The scenes
122 scenes were filmed from Monday to Friday last week, and this totalled over 155 minutes of shooting time.
The parallel unit were hot on their feet. They were on everyday last week filming in the studio, Whitemans Valley and Hutt Valley High School.
Some interesting scenes this week including some with one of the Mallrat's parents.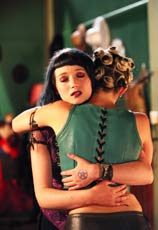 Amber and Trudy
The locations
Monday filming took place at Whitemans Valley and the studio.
Tuesday they filmed at Whitemans Valley and the studio.
Wednesday they were at Wrights Hill and Hutt Valley High School.
Thursday filming was at both the studios.
Friday was at Whitemans Valley and the studios.
Make a start!
The earliest crew call this week was 7.00am on both Wednesday and Thursday. The Unit (who organise all the food and drink on set) were up bright and early and had to be on set at 5.50am.
The earliest pick up for our cast was 5.45am for Fleur Saville (Ruby).
The weather
We heard it was still snowing in the UK last week but in New Zealand it's still summer and there's been some pretty hot days!
Here's the record of the weather in week 12 of the production:
| | |
| --- | --- |
| Monday 27th January: | Cloud increasing with late showers |
| Tuesday 28th January: | Mainly fine with breezy northwesterlies |
| Wednesday 29th January: | Showers clearing with northwesterlies |
| Thursday 30th January: | Fine with northerlies |
| Friday 31st January: | Fine with cloud increasing and strong winds |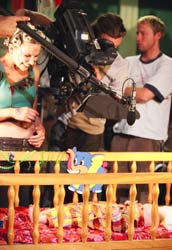 Beth Allen watches as a close up shot is taken of Baby Bray
Join us next week!
Stay Tribal and Keep the Dream Alive…