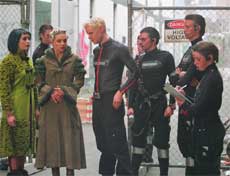 A secret meeting?
Tribe 5 is into week 12 of production from Monday 27th January 2003 – …. BUT what happened last week during filming of Tribe 5?
You'll find out below!!
A great week of filming with many exciting scenes and stunts!
The scenes
73 scenes were filmed from Monday to Friday last week, and this totalled over 116 minutes of shooting time.
The parallel unit got a bit of a break this week with only two days on last week. They were filming secret computer scenes with Jack.
Plus a new cast member was introduced this week – he/she is an interesting character and was causing trouble in Tribeworld on their first day!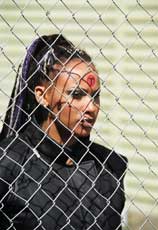 Java is looking worried…
The locations
Monday filming took place at the studio.
Tuesday they filmed at two studios.
Wednesday they were also at the studios.
Thursday filming was at the old Porirua Hospital.
Friday was at Whitemans Valley and the studios.
Make a start!
The earliest crew call this week was 7.00am for everyone on Monday morning.
The earliest pick up for our cast was 5.40am for Matt Robinson (Slade).
The weather
A mixed bag of weather last week with both fine and wet weather.
Here's the record of the weather in week 11 of the production:
| | |
| --- | --- |
| Monday 20th January | Rain developing with northerlies |
| Tuesday 21st January | Mostly fine with northerlies |
| Wednesday 22nd January | Cloudy with rain developing and strong northerlies |
| Thursday 23rd January | Becoming fine with southwesterlies |
| Friday 24th January | Mostly cloudy and showery with strong northerlies |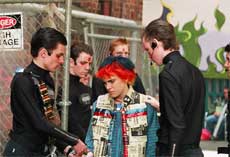 Is Sammy in trouble with the Techno's?
Join us next week!
Stay Tribal and Keep the Dream Alive…