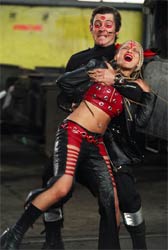 Will Ebony win this one?
Tribe 5 is into week 11 of production from Monday 20th January 2003 – …. BUT what happened last week during filming of Tribe 5?
You'll find out below!!
Wow what a busy week! Every day was a parallel day so two units were shooting each day!
The scenes
119 scenes were filmed from Monday to Friday last week, and this totalled over 151 minutes of shooting time.
The parallel unit was busy picking up scenes, mostly at the studio while the main unit was out on location most days.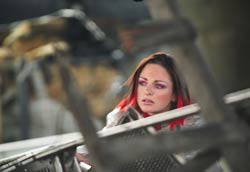 Hiding, spying or just in trouble?
The locations
Monday filming took place at the studio and at Alstrom Transport.
Tuesday they filmed at Kaitoke Regional Park and the studios.
Wednesday they were also at Kaitoke Regional Park with the parallel unit at the studios.
Thursday at Whitemans Valley and the studios.
Friday was at the studios.
Make a start!
The earliest crew call this week was 7.00am for everyone on parallel unit on Tuesday morning.
The earliest pick up for our cast was 5.30am for Megan Alatini (Java).
The weather
The weather wasn't too bad last week – the beginning of the week was a little drizzly but it turned around and the rest of the week was lovely.
Here's the record of the weather in week 10 of the production:
| | |
| --- | --- |
| Monday 13th January | Showers clearing |
| Tuesday 14th January | Cloudy periods with isolated showers |
| Wednesday 15th January | Cloudy periods with isolated showers clearing in the morning then mostly fine. |
| Thursday 16th January | Mainly fine with southwest winds |
| Friday 17th January | Mainly fine with northerly winds |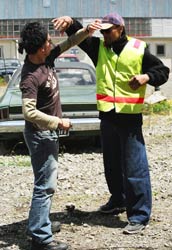 Matt (Slade) rehearsing with
Sam the Stuntman