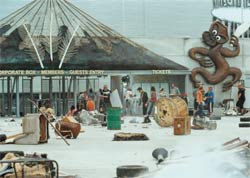 Filming at Westpac Stadium in Wellington
Tribe 5 is into week 10 of production from Monday 13th January 2003 – …. BUT what happened last week during filming of Tribe 5?
You'll find out below!!w
It was the first week back and what a busy week it was! Lots of location shoots and lots of extras!
The scenes
98 scenes were filmed from Monday to Friday last week, and this totalled over 127 minutes of shooting time.
The parallel unit was used four out of five days and it looks like they'll be used a lot this week too.
The locations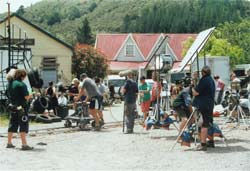 A sunny day at Whitemans Valley
Monday filming took place at the studio;
Tuesday they filmed at the Cable Yards and Whitemans Valley;
Wednesday they were at Hutt Valley High School and Whitemans Valley;
Thursday at Whitemans Valley and the studios and
Friday was at the studios and the Wespac Stadium.
Phew, busy!
Make a start!
The earliest crew call this week was 7.00am for everyone on Thursday morning.
The earliest pick up for our cast was 5.35am for Antonia Prebble (Trudy).
The weather
The weather wasn't too bad most of the week as we waited for the rain that never came! It finally turned up on Friday afternoon.
Here's the record of the weather in week 9 of the production:
| | |
| --- | --- |
| Monday 6th January | Mainly fine with northwest winds |
| Tuesday7th January | Cloudy at times with a few sunny breaks |
| Wednesday 8th January | Mostly fine with southest winds easing a little |
| Thursday 9th January | Cloud increasing and drizzly rain developing during the afternoon |
| Friday 10th January | Drizzly rain becoming patchy later |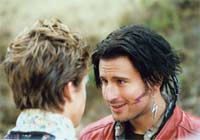 Who's Slade talking to?