Tribe 5 is into week 9 of production from Monday 6th January 2003 – … BUT what happened in the last week of filming last year?
You'll find out below!!
Well the last week of filming last year was hectic! There were lots of scenes to get through as well as the Christmas lunch and the New Zealand premiere of Lord of the Rings which the cast were eager to see!
The scenes
75 scenes were filmed from Monday to Friday of the last week of filming last year, and this totalled over 116 minutes of shooting time.
The parallel unit was used three out of five days.
There was filming at Westpac Trust Stadium on the Wednesday where lots of fighting, sneaking around and chasing took place.
The locations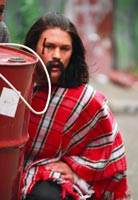 Out for the count?
Locations in the last week of filming included Whitemans Valley, Westpac Trust Stadium, Kenepuru Hospital and the Railyards.
Make a start!
The earliest crew call this week was 7.00am for everyone on Thursday morning.
The earliest pick up for our cast was 5.15am for Beth Allen.
The weather
The weather turned out to be brilliant most of the week despite what the forecasts said.
Here's the record of the weather in week 8 of the production:
| | |
| --- | --- |
| Monday 16th December | Mainly fine with northwest winds |
| Tuesday 17th December | Low cloud and dull with outbreaks of rain and southeast winds |
| Wednesday 18th December | Rain easing with brisk southerly winds |
| Thursday 19th December | Cloud and drizzle clearing and becoming fine |
| Friday 20th December | Fine with light winds |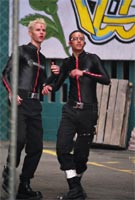 Join us next week!
Stay Tribal and Keep the Dream Alive…