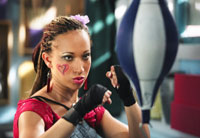 Preparing to fight? Or just keeping fit.
Tribe 5 is into week 8 of production from Monday 16th December 2002 – this is the last week of filming before the cast and crew take a break for two weeks…. BUT what happened last week in the production?
You'll find out below!!
Every week is a busy week and last week was no exception. The cast and crew had a six day working week last week with filming on Saturday as well.
The scenes
81 scenes were filmed from Monday to Saturday last week, and this totalled over 116 minutes of shooting time.
The parallel unit was used four out of six days last week.
There was filming at the Eco Camp this week with a ceremony run by Hawk.
The locations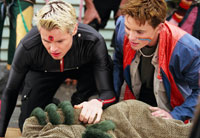 Out for the count?
A variety of locations this week including the Tapu Te Ranga Marae, Hutt Valley High School, Opera House Lane, and Kaitoke Regional Park where the Eco Camp is filmed.
Make a start!
The earliest crew call this week was 7.00am for everyone on Saturday morning. But the unit as usual started well before everyone else at 5.50am.
The earliest pick up for our cast was 5.35am for Michael Wesley Smith again!
The weather
50/50 weather this week with both rain and sunshine.
Here's the record of the weather in week 7 of the production:
| | |
| --- | --- |
| Monday 9th December | Becoming fine with southerly winds dying out. |
| Tuesday 10th December | Cloudy with late rain developing and strong northwest winds. |
| Wednesday 11th December | Cloudy periods with the odd shower and strong northwest winds. |
| Thursday 12th December | Cloudy with late rain and northerly winds rising to severe gale. |
| Friday 13th December | Cloudy with morning rain clearing ands severe northwest gales easing. |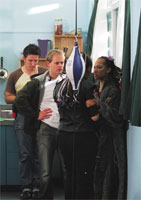 Damon Andrews – directing
Join us on Monday January 6th 2003 for another Tribe 5 location report and some more preview pics!
Stay Tribal and have a great Christmas!
Keep the Dream Alive…