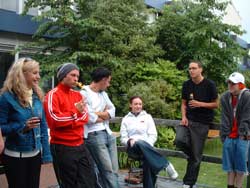 Some of the cast at the BBQ.
Tribe 5 is into week 7 of production from Monday 9th December 2002 – BUT what happened last week in the production?
You'll find out below!!
A very busy week last week. All cast were used on Monday for some large group scenes. On Monday night there was a cast barbeque for everyone to catch up plus it was also Michael Wesley Smith's birthday. Michael is now 19!
The scenes
117 scenes were filmed from Monday to Friday last week, and this totalled over 143 minutes of shooting time! Wow!
The parallel unit was used every single day last week so it was extremely busy with both units filming full days. There were some interesting scenes with Ellie returning but it seems she's not quite herself.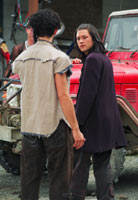 Lex and Slade –
Are they friends or not?
The locations
Because every day was a parallel day last week there were many locations including Kenepuru Hospital, beside a bridge out at Whitemans Valley, Hutt Valley High School, and some city streets.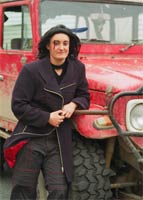 Lex's stunt double?
Make a start!
The earliest crew call this week was 7.00am for everyone on Location at Hutt Valley High on Friday.
The earliest pick up for our cast was 5.00am for Michael Wesley Smith!
The weather
A mixed bag of weather this week but luckily it stayed fine for the outdoor scenes.
Here's the record of the weather in week 6 of the production:
| | |
| --- | --- |
| Monday 2nd December | Cloudy periods with southeasterly winds. |
| Tuesday 3rd December | Fine with light southerly winds. |
| Wednesday 4th December | Mainly fine with northerly winds developing |
| Thursday 5th December | Cloudy with strengthening northerly winds |
| Friday 6th December | A period of rain with strong northerly winds |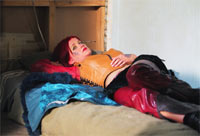 Join us next week for another location report and some more preview pics!
Stay Tribal!
Keep the Dream Alive…