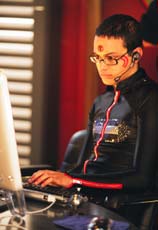 Mega – always in front of a computer
Tribe 5 is into week 6 of production from Monday 2nd December 2002 – BUT what happened last week in the production?
You'll find out below!!
Another busy week last week. All the cast had at least one day on and some cast were on every day! Plus Victoria Spence arrived in Wellington from Auckland last week. She's been studying hard for her exams and now that she's finished school for the year she's spending the next couple of weeks before Christmas filming her scenes.
The scenes
86 scenes were filmed from Monday to Friday last week, and this totalled over 106 minutes of shooting time.
The parallel unit was used twice last week to pick up some scenes and Friday was a big day. On Friday filming took place at Kenepuru Hospital and 9 main cast, 2 guest cast and 80 extras were used.
No paradise users?
The locations
Only two location days last week at Petone Railyards and Kenepuru Hospital. The other days were spent in the studios in various rooms and including the Techno's HQ.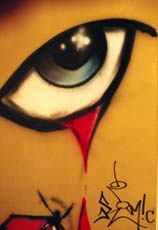 Graffiti everywhere!
Make a start!
The earliest crew call this week was 5.45am for everyone on Location at Kenepuru Hospital.
The earliest pick up for our cast was 5.45am for Tom Hern and Jacinta Wawatai.
The weather
Yah!! Summer is finally here! We had some fantastic weather this week!
Here's the record of the weather in week 5 of the production:
| | |
| --- | --- |
| Monday 11th November | Mainly fine with light winds |
| Tuesday 12th November | Fine with northerly winds developing |
| Wednesday 13th November | Cloudy with patchy rain developing |
| Thursday 14th November | Cloudy periods with early morning drizzle clearing and becoming fine |
| Friday 15th November | Fine with cloudy periods and light northeasterly winds |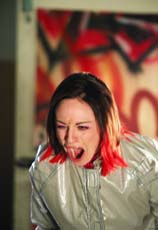 Join us next week for another location report.
Stay Tribal!
Keep the Dream Alive…